Exude® RT Slug
View all Exude® RT Slug to quickly see all choices. This is a great way to easily order different combinations.
Get up to 10% off and Free Shipping. Learn more.
Exude® RT Slug Details
---
Description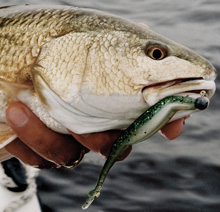 Fishing the Exude® 5" RT Slug
The Exude® RT Slug is one of those rare lures that is perfect for both saltwater and freshwater fishing. It features a chunky body with an undercut slot that hides the hook, making it weedless. Its thin-bodied larger profile also makes it lighter and more realistic. This makes it easier to set the hook. Fish the Exude® RT Slug on an offset hook using a slow jerky retrieve. Its frantic darting and gliding motion simulates an injured shad, making it perfect for redfish, snook or speckled trout The Exude® formulation delivers a fleshy real feel that tastes natural to all game fish.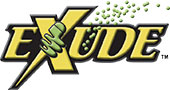 Exude® - Drop any Exude® lure in water, pull it out and feel it. It's slimy… just like a bait fish. That slime coat is the Exude® process. It's releasing a scent trail in the water. While the Exude® formula is complex, the concept is simple. Exude® lures are made with fish food. That's right… fish food. As if making Exude® lures from fish food wasn't enough, Mister Twister® further distinguished Exude® lures by seeing to it they begin releasing this food as soon as the lure enters the water. This scent trail represents a huge breakthrough in fishing tackle technology. In fact, it has defined the next generation of saltwater soft plastic lures.
Testimonials
Reviewer:
Corby Dolar (Saltwater, Alabama)
Fish Caught:
Redfish
After years of being a professional guide and tournament angler the RT Slug has become to my go to bait 99.9% of the time. Be it redfish anywhere in U.S. to Snook in the Everglades to Tarpon in the Keys the RT slug just flat "GETS THE JOB DONE". I placed tops in the final of the first year of the ESPN redfish tour and ONLY used the RT slug as my lure of choice. day in and day out. It never fails me... Great job. M.T.
Reviewer:
Matt (Newport Jetty, Oregon)
Fish Caught:
Bass, Rock
I was on a weekend vacation to the Oregon coast. I bought a couple of packages of Mister Twister RT Slugs for this trip. First cast with the Twister RT Slug and fish were chasing like crazy!! The Mister Twister RT Slug was ONLY lure that produced fish for us. A true testament that these lures are the best! I will always have some in my bag now.
Reviewer:
Sevn Castillo (Tampa, Florida)
Fish Caught:
Redfish
For the past two years this has been hands down the best soft plastic lure. I now refuse to use any other lure when I'm on the hunt for Reds. Just in the last 2 months alone I've caught over 30 on the Mister Twister Exude RT Slug Baby Bass color. Its almost unfair for the fish, they cant resist it.
Reviewer:
Kieran Fodden (Port Richey, Florida)
Fish Caught:
Redfish
Fish go crazy! For the slug... snook, reds, trout and tarpon cant resist it I recommend using a 5/0 hook in funky chicken and gently jerking it
Reviewer:
Capt. Mike Kocian (Texas Coast, Texas)
Fish Caught:
Redfish
We fish the Professional Redfish tours and these lures have proven themselves time and time again. Whether they are fished with a jighead 1/16 to 1/8 oz or rigged weedless with a flutterhook, the action and fish attraction will get the attention and draw strikes from even the most finicky fish.
Reviewer:
Chris (Indian River/Mosquito Lagoon, Florida)
Fish Caught:
Redfish
I use the RT Slug on the flats and catch reds, trout, and snook. The silktruese color catches snook in the mangroves, and the new penny color rigged on a 1/16 oz flutter hook slays big reds on the flats. It is an amazing lure, and has excellent action fished slow or fast.
Reviewer:
Rusty Cheney ( Keith Lake Port Arthur, Texas)
Fish Caught:
Trout, Sea/Speckled
As I write this I am looking through a log book of Speckled Trout I have caught this year and it is standing out to me that I have caught well over 100 fish on a Mangrove Red Exude RT Slug since April with one of those fish being a giant of 27 3/4 inches and 7.11 lbs. Thanks for a great bait.
Reviewer:
Aaron Fraser (Jacksonville, Florida)
Fish Caught:
Redfish
Great Lure!!! The Saltwater RT Slug in both opening day and golden bream are excellent for finicky schooled up redfish during the winter. Hooked weedless on a swimbait hook or with a light jig head, the RT Slug worked slow catches them every time. It's our go to bait's in tournaments. We fished them from Alabama to Titusville, everywhere there's redfish they'll eat Exude.

Aaron Fraser
Reviewer:
Shane Lather (Beaufort River, South Carolina)
Fish Caught:
Redfish
My dad and I won our first Redfish Tournament using the Exude Saltwater RT Slug this month. Thanks for a great product.
Reviewer:
Shane Lather (Beaufort River, SC, South Carolina)
Fish Caught:
Redfish
I caught my first tournament weighing fishing on the mangrove red Saltwater RT Slug. I have tried all the other products on the market and really like the Exude product. You have a new satisfied client. Thanks!!!
Reviewer:
Chuck Eltritch (Howard Park, Florida)
Fish Caught:
Redfish
The Mister Twister RT Slug is great. It has alot of action I was barely twiching it and then a big 27 inch, 11 pound red took my bait. It was the biggest red I ever landed.
Reviewer:
Steven (Tampa, Florida)
I have had great action in backcountry fishing for snook useing the Mister Twister RT slug in the red flash and smokin shad color. On one trip I caught 15 snook thanks to the RT Slug.
Reviewer:
Capt. Jeff Brauer (Vero Beach, Florida)
We use the Exude RT' Slugs exclusively on my local TV show with great results!
When you're fishing for the camera, in tournaments, or with customers, the Exude RT Slug ALWAYS puts our anglers on Snook, Trout & Redfish when "catching" is of the utmost importance!
Write a product testimonial and share your fishing experiences with other customers.
Fish Species
The Exude® RT Slug is perfect for these fish
| | | |
| --- | --- | --- |
| | | |
| Largemouth Bass | Snook | Speckled Trout |
Exude® Saltwater RT Slugs are perfect for these fish
| | | |
| --- | --- | --- |
| | | |
| Flounder | Snook | Speckled Trout |
| | | |
| Tarpon | Cobia | Redfish |
Links & More
Catalog PDF pages
ArticlesBrochures