Poc'it® Craw
View all Poc'it® Craw to quickly see all choices. This is a great way to easily order different combinations.
Get up to 10% off and Free Shipping. Learn more.
Poc'it® Craw Details
---
Description
Sight and vibration are essential for catching bass. Mister Twister®'s Poc'it® Craw traps air in pockets. Bubbles are released during the retrieve increasing, both action and vibration. With a natural crawfish profile, it all adds up to aggressive strikes and a great day on the water.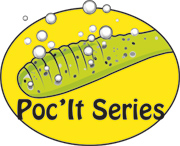 Testimonials
Reviewer:
BRENT BONADONA (PORT ALLEN , Louisiana)
Fish Caught:
Bass, Largemouth
THIS PRODUCT IS GREAT FOR FISHING TEXAS RIGGED,AND I HAVE HAD GREAT SUCCESS USING IT TO PUNCH TOUGH HEAVY MATS.TRY IT OUT AND YOU WILL BE PLEASED WITH THE RESULTS.
Reviewer:
Winston Michel (Atchafalaya Basin, Pierre Part, Louisiana)
Fish Caught:
Bass, Largemouth
I have been using these baits for a couple of months now and they are great. I have fished several different baits in this style and the bass seem to prefer the poc it craw. The bubbles these baits produce evidently make a difference. These baits will definitely be part of my arsenal this year on the tournament trail.
Write a product testimonial and share your fishing experiences with other customers.
Fish Species
The 3-1/2" Poc'it® Craw is perfect for these fish
| | | |
| --- | --- | --- |
| | | |
| Largemouth Bass | Smallmouth Bass | Walleye |
Links & More
Catalog PDF pages
Articles