Super Top Prop®
View all Super Top Prop® to quickly see all choices. This is a great way to easily order different combinations.
Get up to 10% off and Free Shipping. Learn more.
Super Top Prop® Details
---
Description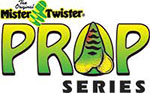 Fishing the Super Top Prop® - Like the Weedless Super Top Prop®, Mister Twister®'s Super Top Props® are ideal for all trophy game fish but they really excel as surface lures for big musky and trophy northern pike. Super Top Props® can be cast or trolled. Knowledgable Bucktail fishermen will appreciate the fact the Super Top features genuine Mepps hand-tied or tandem bucktails in a variety of vivid colors. Super Top Props®, like all of the lures in the Mister Twister® Prop Series are extremely rugged and feature bodies that are virtually indestructible.
Testimonials
Reviewer:
Austin (Devils Lake, Minnesota)
Fish Caught:
Bass, Largemouth
Biggest Largemouth Bass I ever caught was on a Super Top Prop, I was originally fishing for a big Muskie that day but pulled out quite a lunker. It helped I was able to throw it through weeds without worrying about a mess on my hooks. Thanks Mister Twister
Write a product testimonial and share your fishing experiences with other customers.
Links & More
Catalog PDF pages
Articles