FAT Tube
View all FAT Tube to quickly see all choices. This is a great way to easily order different combinations.
Get up to 10% off and Free Shipping. Learn more.
FAT Tube Details
---
Description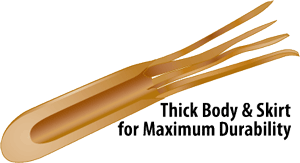 Fishing the Mister Twister® FAT Tube - Experienced tube fishermen know tube fishing is better with the 4" FAT Tube from Mister Twister®. It's fatter, thicker body and longer, thicker tentacles allow the FAT Tube to fall slowly with plenty of tail action, making it one of the most effective slow fall, slow presentation baits you'll find anywhere. Rigged on a FAT Tube Jighead, it is absolutely deadly on big bass.
Testimonials
Reviewer:
Carl Dieter (Local Pond, Ohio)
Fish Caught:
Bass, Largemouth
At 65 years old, I've done a fair amount of bank-beating, cast out a few lures here and there and have kind of got it to a point where I know where I'm fishing and what for to boot.
The Mister Twister Firetiger Fat Tube you people have developed is the very best texture and an excellent lure for my favorite fish, the largemouth bass. It's self acting animation in the water is so great that all I do is cast it out and let it do it's thing. Thanks guys. I love it.
Reviewer:
Derrick Broeckel (Northern Wisconsin Lakes, Wisconsin)
Fish Caught:
Bass, Largemouth - Bass, Smallmouth
This is an excellent tube lure for bed fishing bass in spring and also for deep water fishing for bass in summer. I like hot colors like the chartreuse color for bed fishing because it makes detecting strikes easier, when the lure disappears you most likely have a fish. Fish that time of year are more interested in defending there spawning grounds and not feeding, so natural color is less important. In summer I love the FAT Tube on a bite me tube jig head, the lighter the better. Fish this bait around fish cribs in lakes with very little cover and you will be suprised at the amount and bass you catch. Try to located these cribs with your depthfinder and mark them with a marker buoy right away to hold your spot. Use natural colors, my favorite being the watermelon seed color. It seems to match the crawfish color in alot of clear northern natural lakes.
Reviewer:
Riddler (Withlacoochee River, Florida)
Fish Caught:
Redfish
I use this bait when water temperatures drop and redfish are looking for a small, easy meal. Rig it on a light jighead and slowly drag and/or hop the lure around oyster bars and grasslines during the colder months when the redfish are more lethargic. Tubes are overlooked when it come to redfish, but this Exude Fat Tube will catch you fish.
Reviewer:
Neil Bodner (Rush Creek, Ohio)
Fish Caught:
Bass, Largemouth
It was the first time I had ever used a tube before and I did not have very much confidence in it at the time, but I figured for the heck of it I would keep using it. About ten casts into using it, I decided that I would drag it along the bottom. It only took two casts doing that to get a nice 18" largemouth mad enough. I have caught many more fish on this plastic, very highly recommended.
Write a product testimonial and share your fishing experiences with other customers.
Fish Species
The Exude®+ Extreme FAT Tube with Micro-salt is perfect for these fish
| | | |
| --- | --- | --- |
| | | |
| Largemouth Bass | Smallmouth Bass | Walleye |
Links & More
Catalog PDF pages
ArticlesBrochures