Poc'it® Shake'R
View all Poc'it® Shake'R to quickly see all choices. This is a great way to easily order different combinations.
Get up to 10% off and Free Shipping. Learn more.
Poc'it® Shake'R Details
---
Description
Sight and vibration are essential for catching bass. Mister Twister®'s Poc'it® Shake'R traps air in pockets. Bubbles are released during the retrieve increasing, both action and vibration.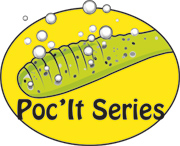 Links & More
Catalog PDF pages
ArticlesArticles (from other sites)
Video