TwisterMite
View all TwisterMite to quickly see all choices. This is a great way to easily order different combinations.
Get up to 10% off and Free Shipping. Learn more.
TwisterMite Details
---
Description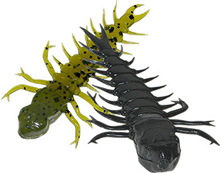 Fishing the Mister Twister® TwisterMite - The Mister Twister TwisterMite is a perfect copy of a hellgrammite. It's the ideal soft plastic lure for trout, crappie, smallmouth and panfish. Rig it with a Mister Twister® jighead or fish it as a drop shot lure. Work it in and around structure. It's also great for Carolina rigging. Great color selection.
Testimonials
Reviewer:
Jonathan Jarrell (Private Pond, Georgia)
Fish Caught:
Bass, Largemouth
I was raised believing live bait was the only way to fish. As I grew older, however, I learned about plastic lures. Mister Twister was my go-to for lures and supplies. I recently ordered some lures from Mister Twister, including the TwisterMite. Once out on the pond I decided to try the TwisterMite and, BAM, two largemouth bass one right after the other. I have never had that kind of performance out of other generic brands. Thank you, Mister Twister, for providing fishermen like me an amazing resource for successful lures!

Reviewer:
John Sheehan (Cupsaw Lake , New Jersey)
Fish Caught:
Perch, Yellow
Using the natural color Twister Mite ,I have had success with Yellow Perch . I use a red Floating Jighead ,# 4 hook and a split shot 8" to a foot away from the hook .Works good .
Reviewer:
Robert (Small Creek, New York)
Fish Caught:
Bass, Smallmouth
I fished through pools and caught fish on the meeny twister and when they would stop biting I would cast in a twistermite on a short dropshot and continue to catch fish. Other times, when I would get no bites with horizontal lures, the twistermite on a dropshot would get 4-5 fish from areas I thought were devoid of fish. An excellent design with a tough head that can withstand multiple fish.
Reviewer:
Mike Gena (Juniata River, Pennsylvania)
Fish Caught:
Bass, Smallmouth
I purchased the Twistermite last year but never used them. I decided to go fishing on the first warm day after a hard winter and was not getting anything on spinners. I decided to try the Twistermite out and to my surprise I caught and released over 15 small mouths that afternoon with the largest going around 18 inches. I will put this next to my other favorite mister twister lure which is the phenom worm.
Reviewer:
Steve J Burress (, Washington)
Fish Caught:
Bass, Largemouth - Bass, Smallmouth
I have used the TwisterMite in bass tournaments for the past couple of seasons and found them to work very well in a couple of circumstances.

I use the TwisterMite as a split shot rig. When fish get tight lipped, rig a TwisterMite on a Finesse style hook ( I use the Gamakatsu Extra-Wide Gap Finesse) either with or without a weedguard. Place a split shot on your line about a foot above the bait and then shake it. Adjust the distance of the split shot for the desired action.

The other way is on a drop shot rig. Depending on the bottom composition, adjust your bait so it is up where the fish can see it. Another similar way to fish a TwisterMite is above a jig worked along the bottom.

Drop me a note with your success story.

Steve J Burress
Mister Twister Washington State Pro Staff
wameppspro@yahoo.com
Reviewer:
Jeff W. Holloway (Monroe, Louisiana)
Fish Caught:
Crappie
My partner and I were fishing the Crappie USA tournament on Lake D'arbonne. It had come a frog choker then the fog had set in, then just at daylight another soaker. I had just picked up several packs of TwisterMites from The Old Bait Store in Monroe. We were catching fish but wanted some kickers. We each put on a TwisterMite and before we could count to ten we each had a nice slab. We qualified for the regional, it was my 4th trip and his first. I am sure glad Kenny had this product. It just goes to show you big baits can big fish.

Jeff W. Holloway
Bayou D'arbonne Guide Service
Monroe, Louisiana

Write a product testimonial and share your fishing experiences with other customers.
Fish Species
The Exude® TwisterMite is perfect for these fish
Bluegill - Bream
Crappie
Smallmouth Bass
Stream Trout
Links & More
Catalog PDF pages
Articles