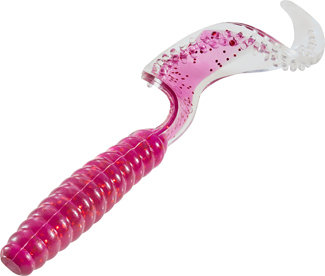 The Mister Twister® Platinum Curly Tail® produces a tight swimming profile for exceptional vibration.
Individual rows of raised ribs on its tail utilizes hydrodynamics to produce a streamlined swimming action.
They are offered in clear and core colors (bloodline), contains scented oils and available in 3½ and 4½ inch sizes, perfect for walleye and other gamefish!
JJames – Lake Walton Hutsonville L, Illinois
Fish Caught: Bass, Largemouth - Crappie (Black)
Using the Platinum 4 1/2 inch lure, my wife and I caught 40 large Crappie and 4 nice bass., and many bluegill hits. we love this lure!!
Phil – Washington County, Utah
Fish Caught: Bass, Largemouth
Thank you Mister Twister for your products.
I have been an avid fisherman for more than 40 yrs.
Zoom products have always been my soft bait lures. I can't say enough about my success with their products.
I have recently been using Mister Twister grub lures for about six months and I'm impressed with the results.
The Platinum curly tails are now my go to lure for bass. They hold up well and they float. I can now retrieve my lure when the bass fling them off of the hook. So far they are outproducing all my other lures.
I will be trying out Mister Twisters trout lures this winter in lakes, streams and resevours.
Thanks again, Phil South Utah waterways
Share Your Testimonial
Write a product testimonial and share your fishing experiences with other customers.