Sight and vibration are essential for catching bass. Mister Twister®'s Poc'it® Fry traps air in pockets. Bubbles are released during the retrieve increasing, both action and vibration.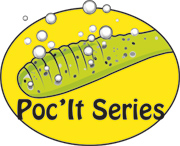 Luke Cole – Green Lake In Caledonia Michigan, Michigan
Fish Caught: Bass, Largemouth - Bass, Rock - Bass, Smallmouth
I cut this in half and use it for a ned rig with the 3/32 oz. Mule Jig, and it is the best plastic I've ever used on a ned rig. I haven't used it this way yet but it would go great on a wacky rig or Texas rig. The air pockets give you a very unique presentation that is absolutly worth it.
Share Your Testimonial
Write a product testimonial and share your fishing experiences with other customers.