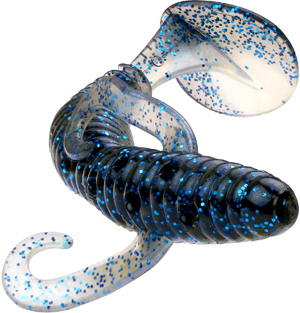 When Bass Elite Series Pro Clent Davis requests a new bait, Mister Twister listens. After 6 months of testing and refining, we had a bait with the exact swimming action Clent was looking for – a hybrid, with all the great features of the SinSation, plus an irresistible swimming action. We call it the SwimSation.
Front, Curly Tail® arms product lift, glide and pulsating, visual attraction. An oversized paddle tail kicks wildly even at slow speeds. The entire body is ribbed and covered with poc'it chambers to increase disturbance. And a closer look reveals the body forms a subtle, hour-glass shape. That slightly trimmed middle allows the tail a much greater range of motion than other swim bait style lures. And, as we watch Clent Davis pile up paycheck after paycheck in the world's most competitive bass fishing tours, we know we've created a bait fish love.
Joel Bernier – Clinton, Massachusetts
Fish Caught: Bass, Largemouth
Was out yesterday at a new fishing spot near me, on my 4th cast a LMB exploded from the water to nail the bluegill Swimsation... over the next 30 minutes I landed 2 more and a couple Pickerel. I cannot say enough good things about this bait, I plan to order more! Mister Twister lives up to the tag line "Catch More Fish, More Often"
Share Your Testimonial
Write a product testimonial and share your fishing experiences with other customers.