Fishing the 4" Exude® Curly Tail® Grub - Everyone knows the Mister Twister® Curly Tail® Grub, rigged with a Mister Twister® jighead, is one of the most effective fishing lures ever. Mister Twister® invented the Curly Tail® Grub - the original Mister Twister® - more than 25 years ago. Now, grub fishing has gotten better with the Exude® Curly Tail® Grub. Rig it to a jighead with just enough weight to get you down to where you want to fish. Then, fish it with a slow. steady twitch. While Exude® lures are great for saltwater fishing, this is one Exude® product that truly will catch just about anything that swims.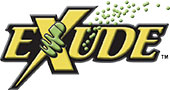 Exude® - Drop any Exude® lure in water, pull it out and feel it. It's slimy… just like a bait fish. That slime coat is the Exude® process. It's releasing a scent trail in the water. While the Exude® formula is complex, the concept is simple. Exude® lures are made with fish food. That's right… fish food. As if making Exude® lures from fish food wasn't enough, Mister Twister® further distinguished Exude® lures by seeing to it they begin releasing this food as soon as the lure enters the water. This scent trail represents a huge breakthrough in fishing tackle technology. In fact, it has defined the next generation of saltwater soft plastic lures.
William Chalmers – Essex Junction, Vermont
Fish Caught: Pike, Northern
The curly tail Grub is an amazing product. I have caught Perch, Bass, Crappie and Pike with them. I like to put them on the end of a Mepps XD. The fish go wild for them.
Travis L. – Houghton Lake,MI, Michigan
Fish Caught: Bass, Largemouth - Bass, Smallmouth - Pike, Northern - Walleye
I swear by the Mister Twister Curly Tails.I've caught everything from bass to walleye on this lure it works great.
I recomend this lure to anyone. Get it in biggest size.
Glenn Martin Miller – Freshwater Lake Hoptcong NJ , New Jersey
Fish Caught: Bass, Largemouth - Bass, Rock - Bass, Smallmouth - Bluegill (Bream, Brim) - Perch, Yellow
The surprise fish of an April ice-out perch fishing trip was a hawg largemouth on a tiny purple Exude grub. I use live bait and tip it with the Teenies.
Bull bluegills in spring took a liking to it also.
Marc Morrone – Phillips Chain, Phillips, Wisconsin
Fish Caught: Bass, Largemouth - Bass, Rock - Bass, Smallmouth - Bluegill (Bream, Brim) - Crappie (Black) - Musky - Perch, Yellow - Pike, Northern - Walleye
Exude grubs flat out catch everything that swims!!!!
Swim them on a jig or fish on a jig under a float. It's like having live bait in your tackle box, and without the "mess" of other scented baits.
Share Your Testimonial
Write a product testimonial and share your fishing experiences with other customers.