Fishing the Exude® D.A.R.T. - The Exude® 4-1/4" D.A.R.T. mimics juvenile bait fish. When rigged with a jighead the D.A.R.T. will stand up just off the bottom. This action is irresistible to redfish, trout, snook and flounder. It can also be rigged with a Mister Twister® Keeper™ hook and pulled through cover for both large and smallmouth bass, northern pike and walleye.
The D.A.R.T. has ten ribs on its underside. These ribs have two functions…
To displace water creating a turbulence that kicks up bottom sediment mimicking feeding bait fish.
To increase the surface area that allows maximum release of the Exude® formula, creating a scent trail that fish can detect and recognize as food.
The D.A.R.T.'s round solid body gives this lure additional weight making casting or skipping it a breeze, even against a stiff wind. The D.A.R.T. is a real winner, catching fish in both salt and fresh water.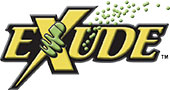 Exude® - Drop any Exude® lure in water, pull it out and feel it. It's slimy… just like a bait fish. That slime coat is the Exude® process. It's releasing a scent trail in the water. While the Exude® formula is complex, the concept is simple. Exude® lures are made with fish food. That's right… fish food. As if making Exude® lures from fish food wasn't enough, Mister Twister® further distinguished Exude® lures by seeing to it they begin releasing this food as soon as the lure enters the water. This scent trail represents a huge breakthrough in fishing tackle technology. In fact, it has defined the next generation of saltwater soft plastic lures.
Jarrod Foster – New Smyrna Beach, Florida ,
Fish Caught: Snook
Works great for Shallow snook and redfish in the east central Fla region!
John H Dobbins – Palm Bay, Florida
Fish Caught: Redfish
Received a package of Golden Bream Dart in the Captains Bag at the Fish Skinz Tournament. Rough day on the water, winds were in the 20 plus range. Waded a shoreline working another brand jerk bait, a couple of hits, no hook ups. Back into the boat to drift the flat. Missed a nice Red on top water plug. Poled back and out. Saw an area of nervous water. The Dart was the closest bait at hand. Quick rig and cast. Slight bump and an instant hookup. Wound up being a 2.75 inch, 6 pound 8 oz Red. Fish was good enough for 9th place. over 200 anglers in the event.
R – Elizabeth River, Chesapeake , Virginia
Fish Caught: Redfish
The D.A.R.T lures arrived at 3:30 and at 4:47 I had caught my first Red on it. I finished the day with a nice 34" red off of the D.A.R.T.
Capt. Bille Kocian – Aransas Pass, Texas
Fish Caught: Redfish - Trout, Sea/Speckled
This is my #1 lure to use. We fish the Pro Redfish circuits and this bait has always proven to be the most productive and consistant lure I have ever used. When I am guiding, I have my clients use this lure because I know it will catch fish. I use these on an 1/8 oz jig head and vary retrieves. When the fish are eating sand eels, this bait is HOT!
Anthony Martinez – St Petersburg, Florida
Fish Caught: Redfish
I'd have to admit the Exude D.A.R.T natural shrimp has by far outfished every lure in my tackle box, especially when Im targeting the infamous Redfish in the shallows"
John – Sarasota/Bays And Flats, Florida
Fish Caught: Redfish - Trout, Sea/Speckled - Snook
The Exude Dart is our Redfish Tournament teams "Go-To" bait. The dart can be worked either weedless or on a weighted jighead and worked in various retrieve patterns. This bait has produced when other bait (even stink baits) have failed. We have won over $100,000.00 using this bait in only two seasons. Thanks Exude for the "Dart".
Steven – Tampa, Florida
The Exude gold D.A.R.T on a 1/8 Oz jig head is HOT in Tampa Bay! It catches everything. I have caught redfish, snook, trout and even sharks on the Exude D.A.R.T. With its great scent release, it is deadily on the trout.
Share Your Testimonial
Write a product testimonial and share your fishing experiences with other customers.