Fishing the Exude® Shrimp - Rigged on a saltwater jig head or single weedless hook, the Exude® Shrimp mimics an escaping shrimp. A quick popping retrieve provides great tail action, while the undulating legs, make it irresistible to flounder, redfish, snook and speckled trout.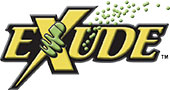 Exude® - Drop any Exude® lure in water, pull it out and feel it. It's slimy… just like a bait fish. That slime coat is the Exude® process. It's releasing a scent trail in the water. While the Exude® formula is complex, the concept is simple. Exude® lures are made with fish food. That's right… fish food. As if making Exude® lures from fish food wasn't enough, Mister Twister® further distinguished Exude® lures by seeing to it they begin releasing this food as soon as the lure enters the water. This scent trail represents a huge breakthrough in fishing tackle technology. In fact, it has defined the next generation of saltwater soft plastic lures.
Capt. Sean O'Connell – Venice/Delacroiox , Louisiana
Fish Caught: Redfish
The Mister Twister Exude Shrimp and Mister Twister Fantail Shrimp are two of the finest redfishg baits on the market today. Sight casting, blind jigging, or popin corking these baits flat out CATCHEM UP!
As a professional refish angler I use whatever will give me a competitive advantage and these baits do just that!
Even finicky fish that have been getting pounded on can't resist and Mister Twister Exude bait. These baits played a crucial role in a Repeat of the Louisiana Salt Water Series Team of the Year 2012 and 2010. Finished top 5 in IFA series and Ht Redfish Cup. The results say it all! Great baits thank you Mister Twister for your exceptional quality and consistent results!
Capt. Sean O'Connell
The Shallow Water Assassin
Alan – Miami, Florida
Fish Caught: Snook
These shrimp lures never stop amazing me, I love them more then any other lure. If I had to be stuck fishing one type of lure for the rest of my life the exude shrimp in natural, and golden bream would be it. I fish out of Biscayne Bay and Flamingo area. Ive used this lure for the past 7 years in these areas and out of a three day fishing in Biscayne bay I caught 12 snook the first day the 2nd caught 7 HUGE snooks, and the 3rd caught 4 keeper snook and 2 tarpon! dont ever stop making this lure PLEASE and stay with the natural and golden bream colors!
ERIC NICHOLSON – TALLAHASSEE, Florida
On a recent grouper trip out of Alligator Point, Fl., we were catching dozens of small grouper(16-18inches), but no keepers. Captain Bill Giddens noted that the grouper were spitting up rock shrimp while we unhooked them. We were fishing with live pinfish and dead alewives. I had some Exude shrimp in my bag (nightglow/green tail) and gave them a try, sending one down on the same rig we were using for bait fishing. The first drop immediately produced a 22 pound red grouper, the biggest of the day. Captain Bill was pleasantly surprised.
Eric Nicholson
Alan Castellon – Flamingo, Biscayne Bay, Miami, Florida
Fish Caught: Snook
I have been fishing the Exude Shrimp for over 4 years now and I love this lure. It's the best soft plastic lure on the market in my opinion. I use these unique lures in Miami, Florida from Biscayne Bay to Flamingo, I catch Snooks like they are going out of stlye, the SNOOK LOVE THESE LURES!!! The Exude Shrimp has caught more fish for me then live bait, snook also prefer them better then live bait, it's an incredible lure. I am and always will be fishing with this lure, it's my favorite over anything. THANK YOU EXUDE for making such a legend of a lure for me and for everyone else keep doing what you do.
Bryan Bejar – Islamorada (Florida Keys), Florida
Fish Caught: Snook
I have only been using Exude Shrimp for a while now, but I have noticed a big difference! Using the luminescent shrimp with chartreuse tail I caught my first tarpon last night. They were all over it, my buddy was using frozen shrimp and I was having just as much action. They are heavy enough where you don't have to weight them down, I will keep using Exudes as long as I fish saltwater.
Daniel Flores – Key Largo/Biscayne Bay, Florida
Fish Caught: Mackerel - Trout, Sea/Speckled - Snook
With this product I have yet to buy any bait. I prefer the glow shrimp color, it kills the sea trout. I have had just as good luck with the RT Slug in shallow water.
Sean Murphy – West Palm Beach, Florida
Fish Caught: Redfish - Trout, Rainbow - Snook
I have been fishing Exude Shrimp for about four years now, and the product doesn't stop amazing me. Last week while fishing the Measles color as well as Natural Shrimp, I bagged my first Florida Backcountry Slam! Thats right, Snook, Redfish, Seatrout and Flounder all in one day! We also caught Bluefish, Spanish Mackeral, Ladyfish and a HUGE Sheepshead! Thats right 8 species all on the same bait! This was done in Sebastion, FL on an incoming tide.
Randy – Yankytown, Florida
Fish Caught: Redfish - Snook
Best soft plastic bait I have in my box. Redfish, Trout, SNOOK and Flounder, I have caught them all. I like the natural Mister Twister Saltwater Shrimp the best and I prefer it over live bait anytime.
Ethan – Florida, Florida
It seems like any other shrimp that I have used.
Share Your Testimonial
Write a product testimonial and share your fishing experiences with other customers.