Since the introduction of the Curly Tail® lure by Mister Twister®, the Curly Tail® grub has become a tackle box staple. Mister Twister® G-Grub® takes the Curly Tail® concept to the next level. It's a Curly Tail® with a leech design, and the results offer a very unique swimming action. Rather than restricting the swimming action to the tail, the G-Grub® incorporates fins from tip to the tail. These fins produce a realistic full-scale swimming profile, making the G-Grub® the perfect imitator of a swimming leech, or active shiner.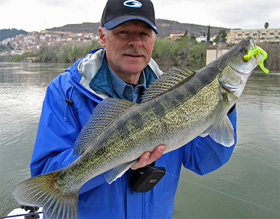 "I was so impressed with how the G-Grub® worked on walleyes, that I could hardly wait for the chance to fish bass with it. The action and unique shape it forms in the water are really different than anything else I've seen.&rdqou; - Mike Sheldon, Mepps President
There are several reasons you should be fishing the G-Grub®…
The G-Grub® is the perfect combination of two excellent live baits… leech and shiner
Innovative fins provide tip to tail swimming action
Extreme vibration and rattle chamber at tail
Top or bottom rigging… same great action with minimal speed
Versatile for stop and go, vertical jigging, or normal retrieve
The first "twin fin&rdqou; design using the combination of a grub body and a leech profile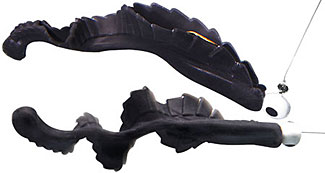 All G-Grubs® have a natural swimming action. The combined
images (above) show the action of the G-Grub® from both
top and bottom as it is pulled through the water. Jigging
also causes the fins to flare.
Rigging the G-Grub®
For largemouth and smallmouth bass or walleye, rig a 3-inch G-Grub® with a 1/8 or 1/4 oz. jighead. It can be rigged with hook point coming out in the middle of the fins or on the opposite side, either way, it produces the same fabulous fish-attracting action. The 4-inch G-Grub® can be rigged with a 1/4 or 3/8 oz. jighead. Again, there is no wrong way to rig the G-Grub®… fins up or down, either way it produces great action.
G-Grubs® can also be used as either floating or sinking harness rigs while trolling or back-trolling for walleyes. Walking sinkers make perfect back-trolling rigs.
Both the 3-inch and 4-inch G-Grub® make an ideal spinner bait trailer for big bass and trophy walleye.
Want sound? Sight and sound are essential for attracting and catching fish. The G-Grub®'s tail has a built in rattle chamber in its tail to accept rattle beads. These are available at almost any tackle store. The bead also adds weight to the tail. Most of the time adding weight to a soft plastic lure will impair hurt its action, but not the G-Grub®. In fact, adding rattle actually enhances the performance of this grub.
Ladislao Diego – Lake Monroe Spillway, Indiana
Fish Caught: Walleye
Mister Twister G grubs worked very good this fall . Fished very slow of the rocky bottom produced some hogs. Color selection was green and black I added white to the tail to make it more flawless and yes indeed it worked like a charm. I would recommend this lure to any new angler fishing for walleye it's a no brainer.
Ron Kolde – Bear Lake, Espanola, Ontario , Canada
Fish Caught: Bass, Smallmouth
I fished in eastern Ontario the past week, The 4" black G-grub was great for pike on most lakes we fished. The G-grub color that brought nearly smallmouth bass to the boat was the pumpkin pepper 3" or 4", I have never had a better day of smallie fishing ever! I ran out of these lures and any other plastic bait I could find did only OK, Needless to say, many more pumpkin pepper G-grubs on order!
Mark Bisig – Pike Lake, Warsaw,, Indiana
Fish Caught: Walleye
On a day where we caught two walleye, I caught one of them on the white 3''G-Grub with a spinner. I will keep using them because they look extremely good and have a great action in the water. I will keep testing a few more times, couldnt be a better price either if you get the discontinued colors.
Chris Imler – Susquehanna River And Potomac River, Maryland
Fish Caught: Bass, Rock - Bass, Smallmouth - Bass, Striped - Crappie (White) - Pickerel - Trout, Sea/Speckled - Walleye
Thank You, So very much for bringing back this awesome lure which is like my old stand by lure the Curly Tail Meeny. I've prayed for the day that it would reappear again. This has to be the only plastic lure that will out fish any other plastic anywhere on the market !!!! This time I will stock up so that I will never run out again. It will catch any species out there.
James Seitz – Allegheny River, Limestone N.Y., New York
Fish Caught: Pike, Northern
I bought the Black G Grub a few months ago.I decided it was time to finally break it out and see how it would work. My very first time using it was on the river bank. I hooked up with a 30" northern. Thanks for the Mister Twisters and the G Grub .. they are in all of my tackle boxes ... jim
Tom Klaiber – Nanticoke Lake, New York
Fish Caught: Bass, Largemouth
Six lb. largemouth using the 3in.clear/sparkles (halographic) g-grub. Fished by bouncing it along the bottom.
Robert Pet – Susquehanna River, Maryland
Fish Caught: Bass, Largemouth
Finally someone has brought back the Mr. Mean lure. I have had fantastic fishing days with the blue and chartruese G-Grub on the Potomac, Susquehanna, as small lake impoundment. I would like to know if you will be adding the silver coating on one side of the tail like the Mr. Mean lure. The little bit of flash resulted in hellacious hits on the initial drop when I used it years ago.
Rolf Reisinger – Germany River Rhein Germany
Fish Caught: Walleye
Incredible! Trying several hours to catch fish without any bite and changed the lure to Mr. Twister G-Grub and bang! 2 Walleyes in 5 Minutes on 2inch blue flake. My favorite lure! Try it!
Barton – Bemidji Lake Minnesota In The River
Fish Caught: Musky
Today I caught a musky with a 3 inch Pumpkin/Orange & Black Flake (Crawfish color) off a wooden bridge. Good Bait!!!!
View All Testimonials
Share Your Testimonial
Write a product testimonial and share your fishing experiences with other customers.