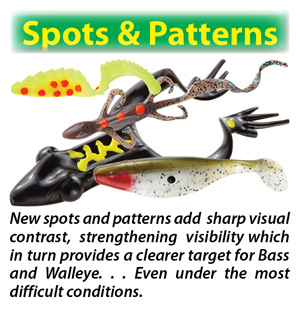 Fishing the Mister Twister® Super Lizard™ with Salt - The Mister Twister Super Lizard™ with Salt is so feature rich, you have to fish it to appreciate it. Rig it with a Mister Twister® Keeper™ Weighted Worm Hook… the Super Lizard™'s head and neck are sized for perfect rigging every time. Twitch it just off the bottom or fish over the top of weeds. Work heavy structure. This weedless rig will slip over logs, stumps, rocks and rip-rap. Big bass will suck it in and won't let go!
Mountain Dew Guide Service – East Wenatchee, Washington
Fish Caught: Walleye
This Lizard hands down has caught more walleye than any other bait in my boat for the last several years. I never go out fishing with out having some of every color in my boat. When the fish hits they just don't want to let go!!
Share Your Testimonial
Write a product testimonial and share your fishing experiences with other customers.