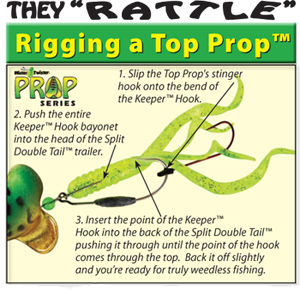 New colors
New rattle beads in hollow body to enhance the sound
New hollow body for super floatation, even with stop-and-go buzz fishing
New body design with stinger hook and one-of-a-kind Split Double Tail
Includes super sharp, stinger hook
Buzz Bait fishing has been around for years. In fact, there is simply no more fun than top water fishing. But ordinary buzz baits sink when the retrieve stalls. With the Top Prop® you can stop it, buzz it, stop & twitch until the bass can't stand it. And, with the Top Prop®'s attached stinger hook, hook-ups dramatically improve. There's no question the Top Prop® will ring the dinner bell. All Top Props® are the colors of natural prey. Top Prop® fishing is weedless. Fish it in heavy weeds, lily pads and around structure where big bass hang out. The redesigned Mister Twister Top Prop®. The thicker the muck, the better it works.
Rick – Any Chain Pickerel Or Northern Pike Lake, Alberta , Canada
Fish Caught: Pike, Northern
This is one of the best lures I have found for northern pike or eastern chain pickerel. It casts extremely well and fish will come from 10 or even 15 feet away to smash it. Awesome bait!
Philippe G – Iles De Boucherville, Montreal, Quebec , Canada
Fish Caught: Bass, Largemouth - Pike, Northern
Today is a very sad day, I just lost my Top Prop. This lure is to me one of the best all-around surface fishing lure. It can get into places no other lures can (seriously it's amazing). The first thing I do when I get to a new location is take out my Top Prop. like if predators have something personal with the lure.
A must buy, especially for Largemouth or Pike hidden in really grassy areas.
Chuck Cox – TN River/KY Lake, Tennessee
Fish Caught: Bass, Largemouth
I love this lure without the trailer hook I get ten times the strikes but with it bass come to the boat. I Can fish the heavy cover with no snags or early in the morning on the open flats the action will wake you up.This is always my start of the morning bait.
Kevin Feind – Lake St. Croix, Wisconsin
Fish Caught: Bass, Largemouth - Pike, Northern
I haven't found a lure that compares to the Top Prop for heavy pads and milfoil. I've not used the lure with the stinger hook, but plan to. Bass and pike smash this lure in heavy weeds, resulting in lots of strikes.
Bob Gladue – Claremont, New Hampshire
Fish Caught: Bass, Largemouth - Bass, Rock - Bass, Smallmouth - Pickerel - Pike, Northern
I have been using the Top Props for atleast 6-7 years and with the trailer hook removed they are almost weedless , just find the right color and presentation for the day and you will be "hooked" on these lures too.
Matt – Lake Arthur, Pennsylvania
Fish Caught: Bass, Largemouth
When I first received my Top Prop lures from Bass Pro shop I was skeptical. However, after using it today, these bass were blowing up on this lure and were trying to destroy it.
Share Your Testimonial
Write a product testimonial and share your fishing experiences with other customers.