Musky Caught by John with Mister Twister 2" & 4" Double Tail in Pennsylvania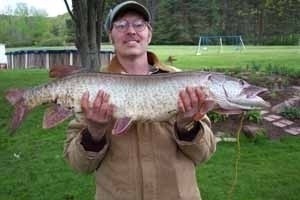 Download Image
Fish Information
Fish: Musky
Size: 38' 14 lbs.
Lure Information
Lure: 2" & 4" Double Tail
Size: 5'
Color: chartreuse
Angler Information
Angler: John Carr
From: Smethport
Country: United States
My Story
I tipped the Mister Twister with half a crawler and the Musky hit. I was fishing with my 11 year old daughter and I think it had hit her Mister Twister earlier.
Catch Information
Caught at: Potato Creek
State: Pennsylvania
Country: United States