Bass Caught by Stephen with Mister Twister Twister® Tail - 4" & 6" in New York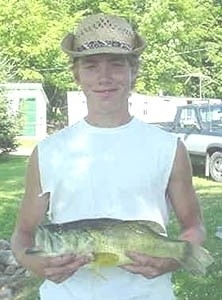 Download Image
Fish Information
Fish: Bass, Largemouth
Size: 19 in, 4 lbs
Lure Information
Lure: Twister® Tail - 4" & 6"
Size: 4 inches
Color: White
Angler Information
Angler: Stephen Ball
From: Natural Bridge
Country: United States
My Story
My father and I were fishing up on Yellow Lake. We had discovered a new Mister Twister lure he had in his box. The both of us proceded to fish with the new lure and after a short time we discovered their ability to catch fish. One of the 1st fish I caught as we started to experiment with the new lure was a beautiful largemouth bass.
Catch Information
Caught at: Yellow Lake
State: New York
Country: United States