Walleye Caught by Frank with Mister Twister Twister® Tail - 4" & 6" in Pennsylvania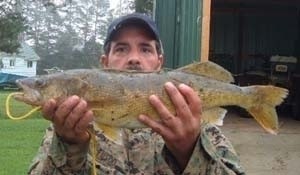 Download Image
Fish Information
Fish: Walleye
Size: 29 Inch
Lure Information
Lure: Twister® Tail - 4" & 6"
Color: White
Angler Information
Angler: Frank Fusco
From: Eldred
Country: United States
My Story
Just one of thoses days Though the water is very low and warm, only a few holes to fish. So off I went down the creek on my 3rd cast with a Twister, BAM this big Walleye hits hard. I am glad I brought the camera.
Catch Information
Caught at: Potato Creek
State: Pennsylvania
Country: United States