Bass Caught by Kyle with Mister Twister Twister® Tail - 4" & 6" in Florida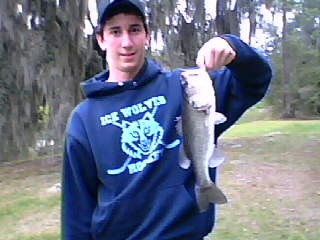 Download Image
Fish Information
Fish: Bass, Largemouth
Size: 3.5 pounds
Lure Information
Lure: Twister® Tail - 4" & 6"
Size: 2 inch
Color: chartreuse/pink jig head
Angler Information
Angler: Kyle Massie
From: Valrico
Country: United States
My Story
I was fishing for crappie, and I had my drag set so it let out real easy. All of a sudden I felt a hit, set the hook, and the fish took off with my line. Finally reeled it in and was suprised to get a bass at least twice the size of all the crappie I had been catching.
Catch Information
Caught at: River Hills Golf Course
State: Florida
Country: United States