Bass Caught by Randy with Mister Twister 4" & 6" Twister® Tail in Minnesota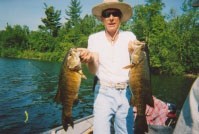 Download Image
Fish Information
Fish: Bass, Smallmouth
Size: 8 Lbs 2 Oz.
Lure Information
Lure: 4" & 6" Twister® Tail
Size: 3 Inch
Color: Yellow
Angler Information
Angler: Randy Henning
From: New Lenox
Country: United States
My Story
My sons and I camped with the Wilderness Outfitters in Basswoods.
I caught the 8 lbs. 2 oz Smallmouth Bass at around 1 o'clock in the afternoon. At the same time, my son, Mike Henning, caught the 6 lbs Smallmouth Bass in my other hand. We used yellow Mister Twisters and they were biting big time!!
Catch Information
Caught at: Basswoods
State: Minnesota
Country: United States