Crappie Caught by Mike with Mister Twister G-Grub® in Maryland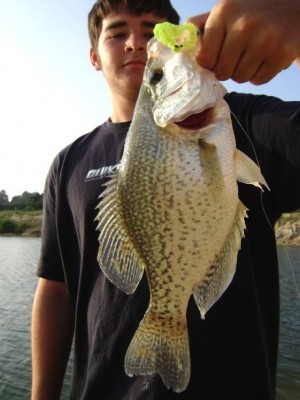 Download Image
Fish Information
Fish: Crappie (White)
Size: 16 Inches 2 Pounds.
Lure Information
Lure: G-Grub®
Size: 2 Inch
Color: Chartreuse
Angler Information
Angler: Mike Mulderick
From: Stevensville
Country: United States
My Story
As I was bass fishing I had casted my 2 inch Mister Twister G-Grub along the shoreline in a 2 foot shallow bank where it drops down to around 15-20 feet. I let the lure sink for about 10 seconds and as I started reeling in I felt a few bites. As I set the hook the fish started fighting and keeping under. I thought it was a bass until the fish surfaced and I noticed the thin long body. I immediately landed the fish and took pictures and measured the fish. It was 16 inches, the biggest crappie Ive caught this season and for that matter, of my life.
Catch Information
Caught at: Dorchester County
State: Maryland
Country: United States
Caught On: Sunday July 8, 2007