Bass Caught by Mike with Mister Twister G-Grub® in Maryland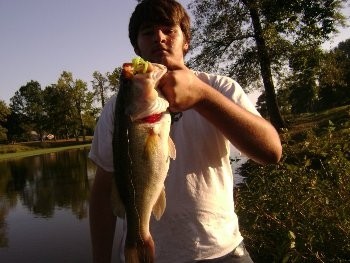 Download Image
Fish Information
Fish: Bass, Largemouth
Size:
Lure Information
Lure: G-Grub®
Size: 2"
Color: Chartreuse Silver Flake
Angler Information
Angler: Mike Mulderick
From: Stevensville
Country: United States
My Story
After breaking off a wacky worm rig on a log and no luck with a crankbait either, I casted out my Mister Twister G Grub. After a few steady retrieve cast and a slow jig I decided to do a stop and go retrieve. I felt the fish hit and I set the hook and the fish put up a fight. It surfaced a few times but took out some drag and stayed under. After landing the fish I guess it was close to 5 pounds but was most likely a thick healthy 4 pounds.
Catch Information
Caught at: St Michaels
State: Maryland
Country: United States
Caught On: Sunday September 7, 2008