Bluegill Caught by MARTIN with Mister Twister Teenie™ - 2" in New York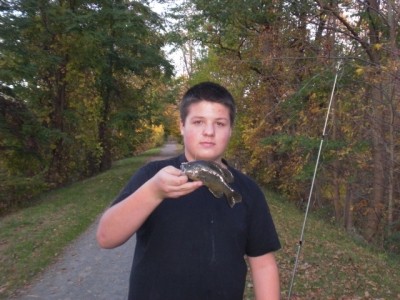 Download Image
Fish Information
Fish: Bluegill (Bream, Brim)
Size: 10oz
Lure Information
Lure: Teenie™ - 2"
Size: 2''
Color: BLACK
Angler Information
Angler: MARTIN BEDUS
From: SYRACUSE
Country: United States
My Story
I WAS AT THE ERIE CANAL WITH MY FAMILY AND I WAS FISHING AND I COULDNT CATCH ANY THING WITH MY RAPALA SKITTER POP LURES. I TOLD THEM THAT I WAS GOING TO SIT THERE WHILE THEY WENT OUT AND I WAS GOING TO FISH ON THE BANK. THEN THATS WHERE THE ACTION STARTED; I PUT ON MY MISTER TWISTER LURE ON AND I DONT NOW WHY, BUT ON THIS LURE I WAS CATCHING EVERY SPECIES OF FISH (BASS PANFISH AND CARP) SO WHEN I SAW MY PARENTS COMING BACK I SIGHED TO THEM AND AS I THROUGH OUT MY LAST CAST BAM! I KNEW I HOOKED SOMETHING BIG IT TOOK ME ABOUT TWO MINUTES TO GET IT IN. AND WHEN I GOT IT IN I FOUND OUT THAT IT WAS A VERY OLD BLUEGILL AND VERY PRETTY TO LOOK AT.
Catch Information
Caught at: ERIE CANAL
State: New York
Country: United States
Caught On: Wednesday October 8, 2008