Bass Caught by Tippy with Mister Twister Lil' Bit™ - 1" in Ohio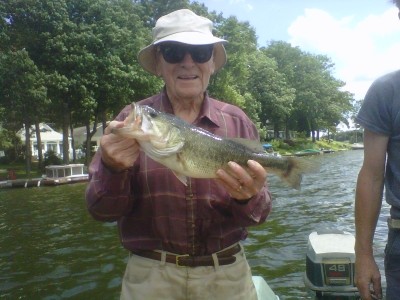 Download Image
Fish Information
Fish: Bass, Largemouth
Size: 18.5
Lure Information
Lure: Lil' Bit™ - 1"
Size: 1
Color: Chartreuse
Angler Information
Angler: Tippy Dye
From: Akron
Country: United States
My Story
I am posting this story on behalf of my grandfather Elmer "Tippy" Dye.He has been fishing with Mr. Twister twister tails for as long as I can remember. During that time he has been filling coolers with Bluegill, Shell Crackers, Crappie, Perch, Bass, and Catfish all caught on twister tails. It's a bit more difficult for him to find his "spots" but I believe he can just feel it when he's in the right place. Within minutes of anchoring we were hauling in big bluegill left and right. All four of use were using twister tails which made it very exciting when he and I both landed 3lb.channel catfish. Not a bad 90th birthday present for my Grandpa.We all enjoyed a great fish fry that evening and added another fish story to the legend that is Tippy Dye.
Catch Information
Caught at: Portage Lakes
State: Ohio
Country: United States
Caught On: Wednesday August 10, 2011