Bass Caught by Jonathan Scott with Mister Twister Sassy Shad® in Minnesota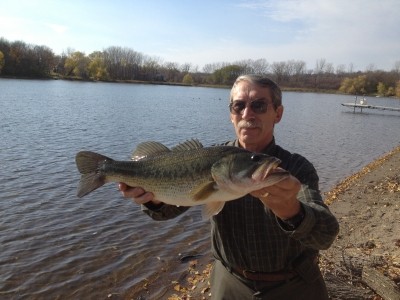 Download Image
Fish Information
Fish: Bass, Largemouth
Size: 20 1/2" 5 Lb.6 Oz.
Lure Information
Lure: Sassy Shad®
Size: 3"
Color: Perl With Black Top
Angler Information
Angler: Jonathan Scott Wallus
From: Eau Claire
Country: United States
My Story
After playing Lumberjack and cutting down 5 trees by my son's house I wanted to go fishing. Using this lure every time I fished off my son's pier I caught largemouth bass. Since my son had already pulled his piers in for the winter I asked the neighbor if I could fish off his pier and he said yes. About 12 casts later in about 2 to 3 feet of water I got this big boy. Yes it is going to be mounted because it is the biggest bass I ever caught!
Catch Information
Caught at: Prior Lake
State: Minnesota
Country: United States
Caught On: Saturday October 20, 2012