Pike Caught by Edward with Mister Twister Meeny™ - 3" in Michigan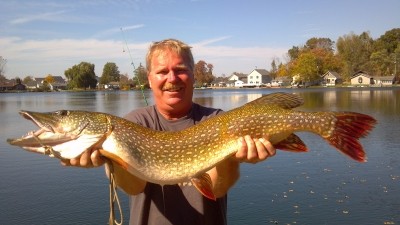 Download Image
Fish Information
Fish: Pike, Northern
Size: 37 Inches 12 1/2 Lbs
Lure Information
Lure: Meeny™ - 3"
Size: 3 Inch
Color: Green
Angler Information
Angler: Edward Vander Loon
From: Caledonia
Country: United States
My Story
Me and my son Nick took our neighbors pontoon boat out for a test ride before we took his boat out of the water for the winter like we do every year. My son last minute said wait, Let me grab a couple of poles first. We were already set up with Mister Twisters because its our favorite lures, so it didn't take long to have them in the water. This Northern hit my twister and took it straight to the bottom. I had no idea what it was but knew it was a monster. All I could think was I didn't have a steel leader on and we had no net so I didn't know how we were going to get it in the boat. After about 10 minutes of fighting it I was able to see what it was. A neighbor heard all the ruckus and offered us any help. We asked for a net so he brought one to us. The net wasn't big enough but we managed to get the ring part under the pike and fling him into the boat. When the pike hit the floor of the boat he spit the hook but it was too late because we already had him! I love my Mister twisters!
Catch Information
Caught at: Caledonia
State: Michigan
Country: United States
Caught On: Tuesday October 18, 2011