Electric Fisherman™ World's #1 Fillet Knife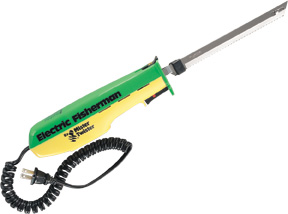 Rated #1, the Mister Twister® Electric Fisherman™ sets the industry standard in electric fish fillet knives. Heavy duty gears and bearings mean 30% more power and 50% more cutting torque than the competition.
Every Electric Fisherman™ features a extra sharp stainless steel blade for fast & easy filleting. Other features include a quick and convenient blade release, a relaxed hand design for better control, safety lock, a high impact motor housing and a handy recoil cord. Is it any wonder the Mister Twister® Electric Fisherman™ is the world's #1 electric fish fillet knife.
Two Year Limited Warranty
The Electric Fisherman™ fillet knife is warranted against defects in materials & workmanship for 2 years from the date of original purchase. Mister Twister® reserves the right to repair or replace units that are returned during the warranty period if (a) the unit-is returned prepaid and (b) a dated sales receipt accompanies the merchandise. DO NOT RETURN TO THE STORE. This warranty does not apply to units which show excessive wear, unreasonable or commercial use or damage not resulting from normal, expected use. Use of a blade not sold by Mister Twister® may alter the performance of the Electric Fisherman® & will void the warranty. Any alterations will void the warranty. Non-warranty repairs will be handled for $10.00 per unit. Include your payment with the returned merchandise. Repair service is available up to three years from the date of purchase. Mail the knife only (do not send the blade) to: Mister Twister®, LLC, P.O. Box 996, Minden, LA 71058-0996
THANK YOU FOR SELECTING THE ELETRIC FISHERMAN THE #1 ELECTRIC KNIFE
View/Download this Limited Warranty
To see the entire lineup of Mister Twister® products, or receive a current Mister Twister® Tackle Catalog, visit our web site at www.mistertwister.com or call 800-344-6331. Mister Twister, PO Drawer 1152, Minden, LA 71058-1152.