Exude® Fantail Shrimp Features Small Profile With Natural Action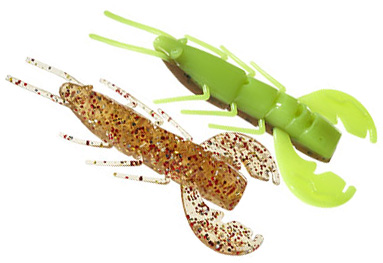 The 2 1/2" Exude® Fan Tail Shrimp from Mister Twister® presents a small profile while sporting lots of leg action. Its fan tail also "flips" during presentation to imitate the natural swimming action of a live shrimp.
In addition the tail includes a rattle chamber that, when equipped with a rattle, not only produces fish-attracting sound, but it adds weight to the tail resulting in enhanced motion. Rig it on a Mister Twister® Saltwater Jighead and, depending on the speed of your retrieve, you will be able to fish it at virtually any depth.
The key to effective artificial shrimp presentations is tail action and sound. The Exude® Fan Tail Shrimp not only has both, but its Exude® formulation begins releasing scent as soon as the lure hits the water. Action, size, sound, colors and scent release. Mister Twister®'s 2 1/2" Exude® Fan Tail Shrimp has it all.
To see the entire lineup of Mister Twister® products, or receive a current Mister Twister® Tackle Catalog, visit our web site at www.mistertwister.com or call 800-344-6331. Mister Twister, PO Drawer 1152, Minden, LA 71058-1152.