Exude® 4" Curly Tail® Perfect For Saltwater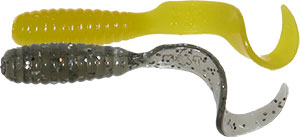 Mister Twister has expanded it's Curly Tail® Grub line with the addition of the Exude® Curly Tail®.
Exude® Curly Tail®s feature the design and action of the original Mister Twister Curly Tail® Grub, the lure recognized as the best grub by both professional and weekend anglers alike.
Because they are formulated with Exude®, Exude® Curly Tails® literally explode with scent the minute they hit the water. In fact, Exude® lures release up to 100 times more scent and feeding stimulants than any other soft plastic lure.
Exude® Curly Tails® are available in 4" grubs and a wide variety of proven colors. The 4" Saltwater Exude® Curly Tail® is perfect for both redfish and specks, as well as a host of other saltwater species.
To see the entire lineup of Mister Twister® products, or receive a current Mister Twister® Tackle Catalog, visit our web site at www.mistertwister.com or call 800-344-6331. Mister Twister, PO Drawer 1152, Minden, LA 71058-1152.