Mister Twister® 2" Hot Curly Tail® Features Natural Profile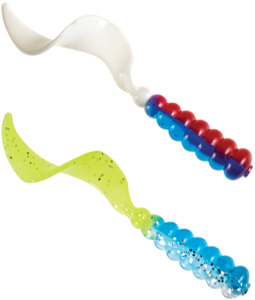 Mister Twister®'s Tri-Alive™ 2" Hot Curly Tail® produces a natural baitfish profile with great tail action. In addition, the Tri-Alive™ color patterns provide a natural baitfish contrast by offering three distinct color laminations.
Color contrast is needed by pros and guides in the crappie circuit, and who better at three color laminations than Mister Twister® the original Tri-Alive™ custom color originator. Color contrast for sight stimulus, and extreme tail action to enhance vibration, a deadly combination for panfishing.
Mister Twister® introduced the Curly Tail® in 1974. Its soft and supple fish-catching design optimizes swimming action. The original Mister Twister® 2" Teenie and 3" Meeny are proven winners for a wide variety of species. The 2" Hot Curly Tail® carries on this tradition. Available in a wide variety of fish-catchin' colors.
Mister Twister®'s web site is www.mistertwister.com To receive a current Mister Twister® Tackle Catalog featuring the entire line-up of Mister Twister® products, either visit our web site or call 800-344-6331. Mister Twister®, PO box 996, Minden, LA 71058-0996.