Mister Twister® VIE Shiner™ Features Twin Paddle Tails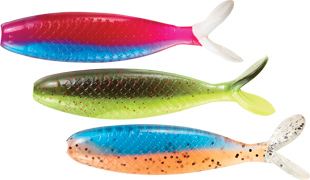 Designed by crappie guides in three states, the Mister Twister® VIE Shiner™ is both tournament and guide tested. Its vertical twin paddle tails displace more water, This, in turn, creates additional fish-attracting vibration. The paddle tails also provide an extreme swimming action.
Every VIE Shiner™ features an enhanced scale pattern and is either laminated or tri-colored for added visibility. The VIE Shiner™'s small 1-3/4" profile also makes this lure ideal for perch. In fact it's sized just right for catching all kinds of panfish.
Use any presentation. The VIE Shiner™ can be jigged or trolled. You can even side troll a VIE Shiner™. Fish it on a tight line, or try a drop shot rig.
Available in a wide variety of proven fish-catchin' colors, Mister Twister®'s VIE Shiner™ is the only small-profile crappie/panfish lure anywhere with twin paddle tails.
Mister Twister®'s web site is www.mistertwister.com. To receive a current Mister Twister® Tackle Catalog featuring the entire line-up of Mister Twister® products, either visit our web site or call 800-344-6331. Mister Twister®, PO box 996, Minden, LA 71058-0996.