Mister Twister® FAT Curly Tail®? Fish it Any Way You Like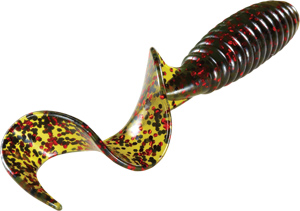 Mister Twister®'s 5" FAT Curly Tail® provides maximum action at ultra-low retrieval speeds making it an excellent choice for casting, flipping, split shot fishing, Carolina rigs & Texas rigs. It also makes a great trailer for spinner baits and in-line spinners.
Mister Twister® introduced the Curly Tail® in 1974. Its soft and supple fish-catching design optimizes swimming action. The original Mister Twister® 2" Teenie and 3" Meeny are proven winners for a wide variety of species. The 5" FAT Curly Tail® carries on this tradition. Available in a wide variety of fish-catchin' colors.
Mister Twister®'s web site is www.mistertwister.com To receive a current Mister Twister® Tackle Catalog featuring the entire line-up of Mister Twister® products, either visit our web site or call 800-344-6331. Mister Twister®, PO box 996, Minden, LA 71058-0996.