Mister Twister® is Clent Davis? Title Sponsor for 2015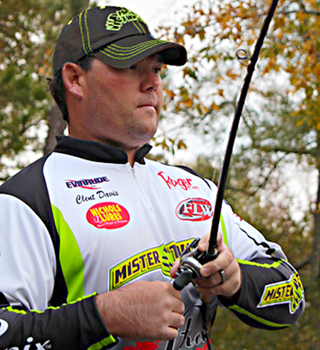 FLW Tour pro, Clent Davis adds Mister Twister® as his title sponsor for 2015. The fourth-year pro, and 2012 Rookie of the Year said, "I'm looking forward to great things with Mister Twister®! They have been a big part of my success in years past, and will continue to be for years to come."
Mister Twister®, the original manufacturer of the Curly Tail® Grub, is committed to producing baits that catch more fish, more often. "Utilizing the experience and dedication of Clent, will go a long way to helping Mister Twister® live up to its promise," says Mister Twister® Communications Director, Kurt Mazurek. "Plus, Clent's style of fishing is a perfect match for us. This guy really knows how to catch bass on soft plastic baits."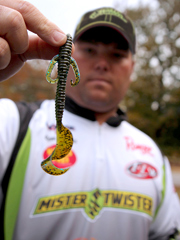 A couple of Davis' favorite Mister Twister® baits include the The Flip'n OUT and the brand new Magnum SinSation. "Those two have become go-to baits for me on tournament days! That Magnum SinSation works whether you're flippin' heavy cover in six-inches of water or dragging it on a football jig off channel ledges 20-feet deep. And the Flip'n OUT is hard to beat for punching mats. The little Twister Curly Tails® on the sides really set it apart from other baits in that category. Plus, I'm really excited about a new lure I've been working on with Mister Twister®, that will be out in early Spring 2015. I can't wait to show everyone. It's going to be big!"
Mister Twister® is enthusiastic about the future with Clent Davis."We really like what Clent adds to the Mister Twister® team. He's a good communicator and a team player who shares our passion for bass fishing. We're proud and excited to have him on board," said Mazurek.
Follow Davis as he begins his fourth season with the FLW Tour on Lake Toho in March. In addition, he'll compete in the B.A.S.S. Southern Opens starting in early January at Lake Toho and the FLW Rayovac Series on Lake Okeechobee. For more information on Clent Davis, please visit http://www.facebook.com/Clent.Davis
To see the entire lineup of Mister Twister® products, or receive a current Mister Twister® Tackle Catalog, visit our web site at www.mistertwister.com or call 800-344-6331. Mister Twister, PO Drawer 1152, Minden, LA 71058-1152.