Mister Twister® Hawg Frawg® Is "No Ordinary Toad"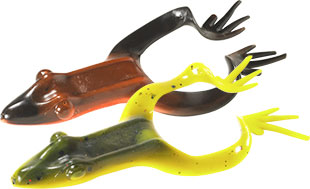 With advice from its bass fishing pro staff Mister Twister® has completely redesigned its Hawg Frawg®, and everyone who has opportunity to fish the new version of this classic soft plastic lure agrees this is "No Ordinary Toad."
It's loaded with all kinds of new features. To begin with, it perfectly imitates a frog. In addition, its oversized legs break the surface tension during the retrieve creating added water movement. This significantly enhances the top water bite. As if this wasn't enough, all new Hawg Frawg®s feature real 3D eyes and are carefully molded in vivid colors proven to catch big bass.
Rig it weedless on a Mister Twister® Keeper™ Hook or fish it on a jig. The lure that has been a staple with fishermen for over 30 years just got more productive. Two sizes... 3" & 4". Both sizes cast easily with or without added weight.
To see the entire lineup of Mister Twister® products, or receive a current Mister Twister® Tackle Catalog, visit our web site at www.mistertwister.com or call 800-344-6331. Mister Twister, PO Drawer 1152, Minden, LA 71058-1152.