Mister Twister® Micros Just Like The Real Thing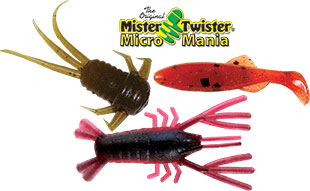 Mister Twister® calls it "Micro Mania™." There's the Mister Twister® 1-1/4" Micro Crawfish™, 1-1/8" Micro Shad™ and 1-1/4" Mister Twister® Nymph. These tiny soft plastic delicacies add a new dimension to finesse fishing. They'll fool the most cautious trout, slab crappie or big bream.
Designed to mimic Mother Nature, Mister Twister® Micros come in carefully selected colors proven to catch trout and panfish.
Micro Crawfish™ – The perfect duplication of a baby crawfish.
Micro Shad™ – The Sassy Shad® is one of the most popular lures of all time. Mister Twister® downsized it to produce the Micro Shad™.
Mister Twister® Nymph – Here's a lure that lets soft plastic fishermen "match the hatch." It's a perfect imitation of a mayfly nymph.
Rig any of these little lures on a 1/16 or 1/32 oz. jighead and bounce them along the bottom for a perfectly natural presentation. They are equally effective when fished on a single hook.
To see the entire lineup of Mister Twister® products, or receive a current Mister Twister® Tackle Catalog, visit our web site at www.mistertwister.com or call 800-344-6331. Mister Twister, PO Drawer 1152, Minden, LA 71058-1152.