Mister Twister® Poc'it Series Lures Release Bubbles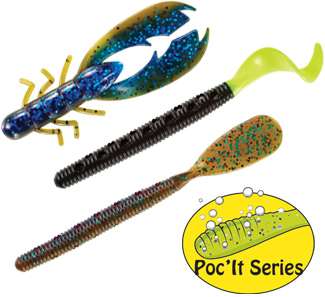 Mister Twister® has come up with a unique new way to attract fish. Mister Twister® Poc'it® lures all feature pockets along their body to maximize the natural presentation process. Air is trapped in these small cavities built into the Poc'it® lure's body. As the lure is drawn through the water the bubbles are released. Not only does this increase both action and vibration, it triggers more aggressive strikes.
Mister Twister®'s Poc'it® Series includes the 5" Poc'it® Phenom®, the 3½" Poc'it® Craw and the 5" Poc'it® Paddle Tail. All feature a sleek body profile, and – of course - air pockets.
Sight and vibration are essential for catching fish so the Poc'it® Craw also features a natural crawfish profile This all adds up to aggressive strikes and a great day on the water. Mister Twister® Poc'it® lures. . . Catching More Fish, More Often.
Mister Twister®'s web site is www.mistertwister.com To receive a current Mister Twister® Tackle Catalog featuring the entire line-up of Mister Twister® products, either visit our web site or call 800-344-6331. Mister Twister®, PO box 996, Minden, LA 71058-0996.