Mister Twister® Saltwater Jigheads Ideal For Any Soft Plastic Lure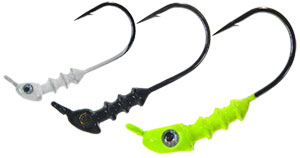 Reinforcing its commitment to give saltwater anglers the finest products available, Mister Twister® has developed a line of rugged saltwater jigheads that work perfectly with any soft plastic lure, including Mister Twister®'s line of Exude® saltwater lures.
Available in three colors - white, black or chartreuse - and in 1/8 oz., 3/16 oz., and 1/4 oz. sizes, all of these saltwater jigheads feature an extra strong stainless steel hook for maximum corrosion resistance.
In addition, all three sizes feature three "ribs" to hold your lure securely in place under almost any fishing condition. All are precision engineered and enhanced with their own unique swimming action. All three sizes also have two large prism eyes for maximum saltwater game fish attraction.
To see the entire lineup of Mister Twister® products, or receive a current Mister Twister® Tackle Catalog, visit our web site at www.mistertwister.com or call 800-344-6331. Mister Twister, PO Drawer 1152, Minden, LA 71058-1152.