Curly Tail® Grubs
Select from the choices below for more information or to order online.
Mister Twister®... King of Curly Tails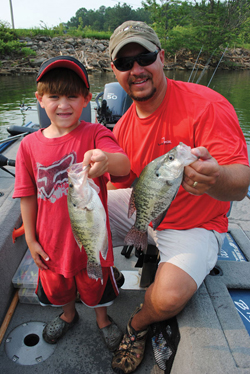 Mister Twister®'s 1" Lil' Bits, 2" Teenies and 3" Meenys are the original soft plastic Curly Tail® lures. They're often simply referred to as "Mister Twister® Tails." Extremely versatile, any one of them can be added to almost any type of lure for added attraction, but a Mister Twister® Curly Tail® rigged to a Mister Twister® jighead is one of the deadliest combinations you can fish. This rig can be cast or trolled effectively, but casting offers better control over both retrieve speed and depth. Maneuver your boat so you can cast to the shallows. If those shallows have a bed of cabbage weeds, lily pads or other structure, so much the better. Drop-offs are holding areas for game fish, as are weed beds. Cast past these areas so you can work your jig and Mister Twister® Curly Tail® through them.
A lot of fishermen worry too much about which size Mister Twister® jighead to use. Use the weight you need to get the lure to the bottom. A good rule of thumb is, use the lightest jighead you can to get the job done. Use smaller heads for panfish, crappie & trout, and larger heads for bass and walleye.
There are many ways to fish a Mister Twister® Curly Tail®, but here are two of the most popular...
The swimming method is simply a slow, steady, continuous turn of the reel handle while holding your rod tip low and pointed toward the water. The Curly Tail® swimming action will never stop as long as you keep a slow steady retrieve. It's very important you fish slow and deliberate. In fact, the slow retrieve is the key to the swimming method.
The jigging method utilizes a pumping action. With this method you give your bait action by raising and lowering the rod tip, letting the bait rise and fall. Be sure, each time the bait drops, you reel-in enough line to eliminate any slack. When jigging, nine out of ten times a fish will strike while the bait is dropping so a tight line is always needed. Fact is, a tight line is the key to this presentation.
Mister Twister® Lil' Bits, Teenies and Meenys are the #1 Curly Tails® of all time. They contiue the Mister Twister® legacy of Catching More Fish More Often. This is why Mister Twister® remains the King of Curly Tails®.