By Lake Fork Texas Guide Ricky Vandergriff
Finding Fish In October
Now here is how I will fish for bass this month and what other fish will be doing and where you will find them.
I like to fish in the main creek channels in the fall.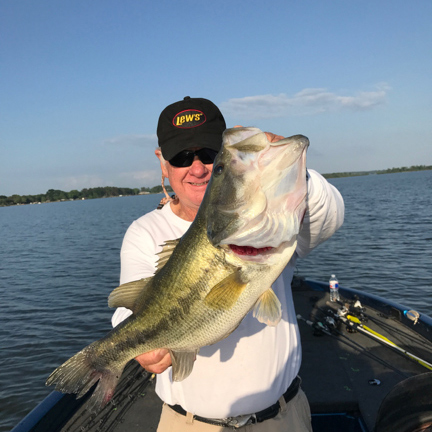 I will pick out a creek that holds good cover and good depths and this is where I will find my larger fish.
The lures of choice will be a medium running crank bait such as the bomber square bill next will be my Texas Spinner Bait that I build and the one spinner that I prefer most will be my Lake Fork 430 special in a chart/white color. I will fish it along the shore lines up next to any and all cover I can find. I can hear you now what makes the 430 special so good? Is it the speed that you can fish it? Is it the action or a certain blade type just what makes the 430 Special a spinner bait so great to make me want to go out and buy one? What makes this bait so special is the blade or blades , I use a head design that is stream line and has big eyes on it giving it more chance to be seen by the fish.
Mister Twister Baits To Use
When asked, "What is your favorite soft plastic lure company?" That's easy for me. There is no soft plastic that can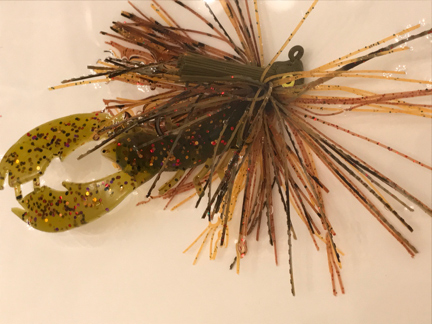 compare to Mister Twister. They have been in business since the 70's and have been the leader pretty much the whole time they have been around. Just to mention a few of their lures I keep in my box is the SwimSation and the Magnum Sinsation, a great jig trailer is the Flip'n Out and the famous pocket craw and then the new 10' Hang 10!
For you folks that like dead fishing try the Comida. When it comes to frog fishing, there's the Hawg Frawg and I could go on and on about Mister Twister. I began fishing their products when they first came out with the first curly tail worm in the market! Try Mister Twister Products, you'll love them.
Hook Selection
First let me start with the hook, I use the finest Mustad hook I can buy to insure that you make as many hook-ups as you can. Next lets go to color I only make this lure in five colors, Chart/White, Sexy Shad, White Flash, Black Neon and Black Blue. Okay why these colors and not others? Well these are colors that can be seen by the bass easier because of the flash they put out. I know why so many colors fish don't know colors. Well my answer for that question is did you know that a bass can see not only colors but he see's colors twenty five times better than we do. He can see each color at different depths and the color he see's the lure at is how high or low the sun is and how bright it may be at that time.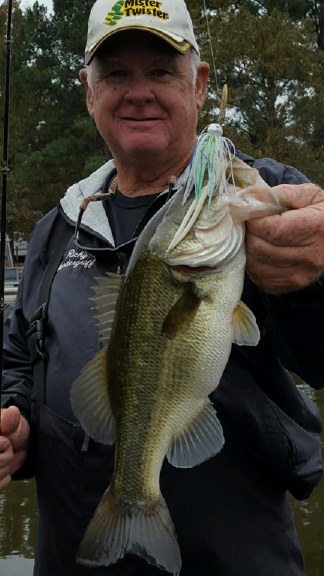 Next is the blade combination I use and the colors of my blades blend with the head colors making it more visible to the fish. The 430 Special easier to see for each of those reasons. Now whats the blades got to do with the flash from the lure well it's the type blades I use. I use only 24 Karat Gold and Nickel Silver Deep Dish Colorado Blades. The reason for these blades is during the times when your water begins to cool down you will need to be able to speed your lure up at times and also slow it down when you approach a spot that looks more productive and you will need colors that stand out giving you a better chance to catch your bass. The Deep Dish Blades will also put out way more vibration than other blades. Now here's why I use these colors only.
Colors To Throw
To start with, these colors stand out more in both clear and stained water. I also feel that I have the best colors for fishing when you have good lighting from the sun light and also the colors that show up the best in the night or low light days. I will use my bright color when I have sunny days and I will go to my darker colors for low light or night time fishing. Now all said I hope you will try my 430 special spinner bait. I think you will love it. I also make regular spinner baits and many colors of them so when ordering the 430 Special you can order it and others as well. I build the 430 special in three sizes ¼, 3/8 and ½ size. My other Texas Spinner Baits come in ¼ to 1 ounce.
My Big Eye Jig
My next lure of choice is my Big Eye Jig in 3/8 oz. Size and in both a perch color, Green Grasshopper, Black/brown amber and black blue. Try my Big Eye Jigs and my Lake Fork 430 Special Spinner Baits I think you to will agree they are the very best on the water.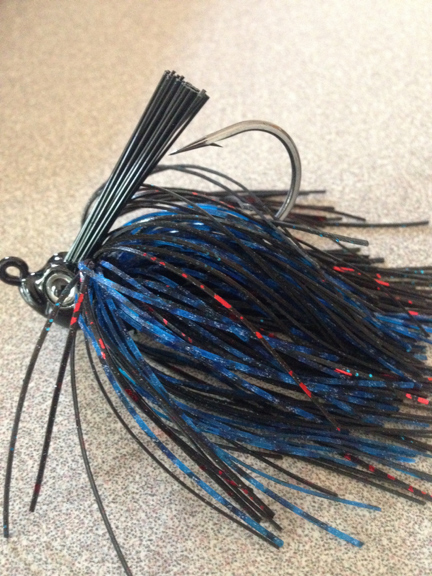 You can order your lures by calling 903-561-7299 or 903-530-2201 or by going to my web site ricky@rickysguideservice.com or Texas Spinner Bait .com. The 430 special only comes in the five colors mentioned but my Big Eye Jigs can be built in most any color you may want.
I keep some colors ready built most of the time for a faster turn around for you and special orders or normally out with in two weeks. I will fish the back of my creeks up north in the fall with both my Big Eye Jig and The Lake Fork 430 Special Spinner Bait. I try to concentrate on my stumps or brush along the channel.
Down south I will also fish the backs of my main creeks and under or around any boat dock where I find at least six feet of water at the front of the docks and I will look for the docks that have brush around or under them.
Crappie Fishing
For the crappie fisherman well you can find the crappie moving into the 14 to 24 foot brush piles and they can also be found under the main lake bridges. The best lures will be small jigs. Mister Twister Lures make one that is a big fan of mine and it's called the Lightnin Bug it comes in several colors and sizes and works great.
Sand Bass will also begin to move some each morning now and you can catch them on spoons and rat-l-traps on your main lake points.
Rods & Reels
Every so often folks will ask me Ricky what gear do you use as far as Rods and reels I use Lew's rods and reels . Why because I don't think anyone else makes one better nor smoother on today's market.
Boats & Electronics
As far as Boats Motors and Electronics I prefer Ranger Boats, Mercury Outboards and Lowrance Electronics. Come fish with me and I will let you take a ride in the finest boat on the water and powered by Mercury and I can demonstrate the Lowrance Electronics to yo as well. As I say when you fish with me I want you to learn all that you can because my goal is that if you learn just one thing while out with me then your money was well spent.
October Weather
Can you believe the weather we've had, 90s one day and 80s another. We have watched the weather turn bad for the folks all along the south coast and Houston and even over on our east coast now with the last hurricane that went through the upper parts of Florida and on up the coast line and as far inland as the eastern edges of Tennessee. I hope and pray that you and your families came through in good shape and I hope you didn't receive to much damage from the high winds and water damages.
For our lakes, well, we needed the rain that we got and a bit more. As you know, our lakes have been in pretty good shape due to our mild summer but in August the city of Tyler kind of went nuts cleaning out their lines and pulled Lake Palestine down about two-and-a-half feet. The fishing has been tough for some, and others, well, fishing has been pretty good.
What Fall Does To Grass Growth
Fall is now here and we will begin to get the much needed rains again and with the rain the lakes will come back up to their normal pool levels and for some of our lakes we may even go above pool. With the dropping of the air temps and the dropping of the water temps any grass you may have found on Lake Palestine will start to fall back to the bottom of the lake and all our grass fishing will be done for the year. I hope we can get more grass growth next year because the grass is very good for fishing and keeping our lakes cleaner.
I know lots of folks hope the grass won't come back in our lakes but with that, here's something to think about when it comes to grass: God put plant life on earth why? Well, it provides oxygen and that's whatkeeps us breathing. In our lakes, grass filters the water to keep it pure for drinking and for our fish it gives them a place to hide from prey that would hurt them, along with grass providing food for our fish, making it easier for us to find and catch even more fish.
Thanks To My Guide Clients
As always I would like to say thank you to the ones that fish with me each month and I would like to welcome you to come fish with me as well. If you have special needs in fishing that you don't understand, then fishing with a guide is one of the best ways to learn. In my guide service, I try to watch as you fish and help you to learn how to use different types of lures and if you have gear that you have problems with when using it well I try to help with that to.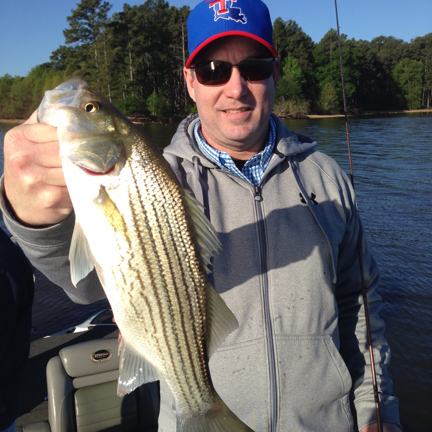 My goal when you fish with me is to help you catch more fish and understand as much about your lures and gear as I can so that when your out fishing for fun on your own that you can catch more fish. I also have gift certificates available for the up coming holidays. I am also taking bookings now for next year so call today and lets get you set up with the day or days you want to fish.
You can reach me at (903) 561-7299 office or my cell, (903) 530-2201 and also by email ricky@rickysguideservice.com
Until next month remember to keep only the fish you can use and release the rest so that our children can enjoy the great sport we call fishing.
Good Luck And Good Fishing