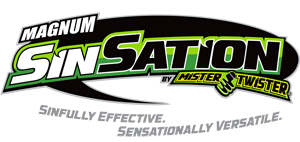 The SinSation is sinfully effective and sensationally versatile. Texas-rigged? Obviously. Carolina-rigged? Of course. Rig it on a swim bait head; a scrounger head; or in place of a skirt on your favorite spinnerbait, buzzbait or chatterbait. Perfect for punching. It even works amazingly well as an oversized drop-shot bait.
The 5" long Magnum SinSation is the perfect combination of finesse and flash. The front half of the body is thicker to affect the bait's balance and glide, but also to provide a perfect spot to hold your hook securely. Plus the two, front Curly Tails® produce lift and glide along with attracting pulsations and visual attraction. The back half of the body is thinner to allow the oversized Curly Tail® to really get to work. And, the entire body is ribbed and covered with a series of Poc'it® chambers to increase water disturbance and slow its swim.
Jim LaRusso – Gananoque, Canada, New Jersey
Fish Caught: Bass, Largemouth - Pickerel - Pike, Northern
This product is great in thick cover. Very versatile lure
Share Your Testimonial
Write a product testimonial and share your fishing experiences with other customers.