Bass Caught by Chas with Mister Twister 6" Phenom® Worm in New Jersey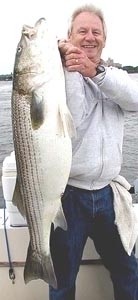 Download Image
Fish Information
Fish: Bass, Striped
Size: 43 pounds 45 inches
Lure Information
Lure: 6" Phenom® Worm
Size: 11 inch
Color: Black with Red Firetail
Angler Information
Angler: Chas Stamm
From: New Milford
Country: United States
My Story
I use this bait for almost all my salt water fishing. It out- produces live eels most of the time.
I use it to catch so many fish, it has been renamed the "Charlie Rig". This particular fish came in on June 5, of 2004 around 1:00pm in the East River in New York city. The fish took a little over 25 minutes to bring in.
You can see the bait at my feet.
Catch Information
Caught at: East River, NYC
State: New Jersey
Country: United States