Bass Caught by John with Mister Twister 3" & 4" Hawg Frawg® in Florida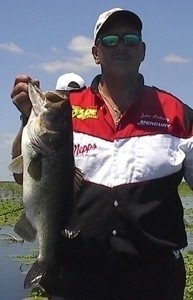 Download Image
Fish Information
Fish: Bass, Largemouth
Size: 9.63 lbs 29.5 inches long
Lure Information
Lure: 3" & 4" Hawg Frawg®
Size: 4 inch
Color: Black
Angler Information
Angler: John Anthony
From: Port Saint Lucie
Country: United States
My Story
I am a guide on Lake Okeechobee. On a recent outing, I had 3 customers on board and they were using live shiners. While I was operating the trolling motor I was throwing a Mister Twister Hawg Frawg over some lilly pads at about 2:30pm on a bright bluebird sky day, when this big ole gal hit!
You can tell by the picture that she had already laid her eggs or the fish would have been well over 10lbs.
I also fish a Pro-Trail www.HT3Otdoors.com and between the Mister Twister Comidas and the Hawg Frawgs, I have been doing really well. You have great products and I enjoy using all of them salt and fresh.
Catch Information
Caught at: Lake Okeechobee
State: Florida
Country: United States