Bass Caught by Chris with Mister Twister 3" & 4" Hawg Frawg® in Wisconsin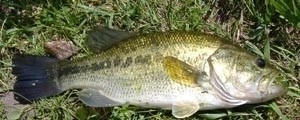 Download Image
Fish Information
Fish: Bass, Largemouth
Size: 14.5"
Lure Information
Lure: 3" & 4" Hawg Frawg®
Size: 3
Color: Yellow
Angler Information
Angler: Chris Kurkowski
From: West Bend
Country: United States
My Story
Been spotting large bass all day. Tried some other lures first but only tempted one into biting and it tossed the hook. Tried the lure a couple of more casts, but didn't get any more bites from it. Then I threw on a Mister Twister Hawg Frawg and one hit it. Was fighting it for awhile and then landed it.
Catch Information
Caught at: West Bend, Wisconsin
State: Wisconsin
Country: United States