Snook Caught by Austin with Mister Twister Exude™ 4¼" D.A.R.T. in Florida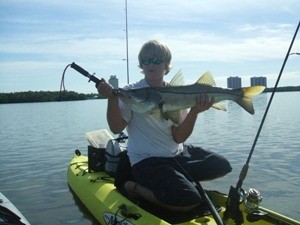 Download Image
Fish Information
Fish: Snook
Size: 36"
Lure Information
Lure: Exude™ 4¼" D.A.R.T.
Angler Information
Angler: Austin Carey
From: Cape Coral
Country: United States
My Story
Went out to Estero Bay for prefishing Kayak Slam Series. We got out at 9:00 am and I started throwing into the bait pods and soon cought some snook, reds, and trout. I ended up with 8 fish altogether. Thanks, Mister Twister for the differnet types of Exude products you offer.
Catch Information
Caught at: Estero Bay
State: Florida
Country: United States
Caught On: Sunday June 8, 2008