Walleye Caught by Nam with Mister Twister Exude™ 4" Curly Tail Grub in Minnesota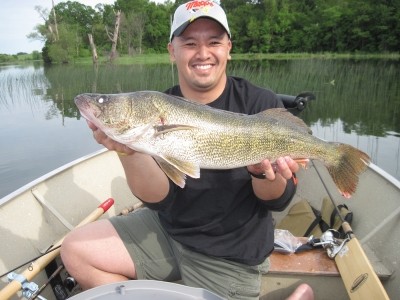 Download Image
Fish Information
Fish: Walleye
Size: 27.5"
Lure Information
Lure: Exude™ 4" Curly Tail Grub
Size: 3"
Color: White
Angler Information
Angler: Nam Nguyen
From: Apple Valley
Country: United States
My Story
We approached a patch of reeds and I made a cast with a 3" white curly tail grub towards the edge. About two reels of the handle I had a big hit and set the hook. It was a tough fighting the fish with light line and when the fish finally surfaced, I was a bit nervous the line might snap. After a short battle, we netted the fish for a quick photo before the release.
Catch Information
Caught at: McMahon Lake
State: Minnesota
Country: United States
Caught On: Saturday June 4, 2011