by Ray Stansberry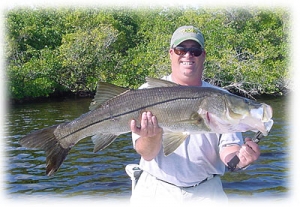 Ray Stansberry is a Mister Twister® saltwater field staff member. He is from Titusville, Florida.
Ray Stansberry with a close-to 20 pound snook he caught on an Exude® RT Slug. The fish was released.

Exude® RT Slug is the perfect prospecting tool any shallow water, saltwater angler could have. The horizontal swimming action and stability created by the unique Radial Tail (RT) design makes this offering irresistible to Redfish, Seatrout, Snook, Tarpon, among other species. The RT Slug is a very versatile bait. In extreme shallow water grass flats, rig it weedless for a quality jerk bait retrieve. A fast retrieve creates a subtle topwater, walk-the-dog action. The RT Slug rigged with a jighead changes its' presentation design and allows it to work from the bottom, through the various stages of the water column.

Exude® DART is an excellent vertical swimming and DARTing soft plastic. Whether jigged through potholes filled with trout, or rigged weedless to tempt a snook out of a mangrove, or working through a grass flat for redfish the DART is ready to tackle all of those scenarios. This bait is very aerodynamic, which makes it easy to launch long distance casts to spooky flats fish. The DART's ribbed stomach creates a "puff" every time it comes in contact with the bottom, and those "puffs" are noticed by the very aware and crafty shallow water game fish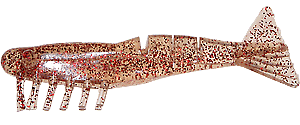 Exude® Shrimp is what all inshore saltwater game fish cannot resist. This very life-like soft plastic can be rigged with a jighead for working the bottom of deeper water, while a weedless setup enables the Shrimp to be worked slowly and subtly through the sandy areas in between the expansive grass flats, or skipped under docks, mangroves or any other structure. The Shrimp has enjoyed much success as a prospector as much as a sight-fishing tool. The design of the shrimp allows for inserting a small rattle chamber with its' body to further entice the bite.