Chris Berzas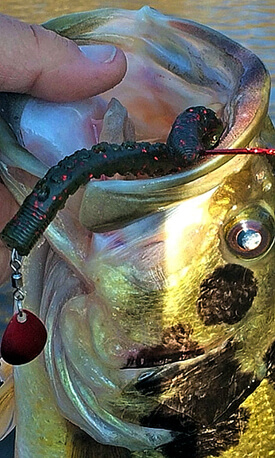 Mister Twister Pro-staffer Sandy Gaudet remembers having to find some willing bass before a weekend tournament.
The spawn was over, and the 50-year-old angler from Belle Rose knew bass were scattered. But his years of experience in a specific area of Louisiana's Atchafalaya River Basin played a significant role in urging him forward to a series of laydowns in an interior canal.
The angler picked up his rod with a Mister Twister Poc'it Fry tied on, one with a special piece of jewelry attached.
Adorning the end of the Texas-rigged Poc'it Fry was a Humdinger Power Spinner, a screw-lock small spinning blade.
"I was using the No. 2 red Colorado blade attached to a watermelon-red Poc'it Fry," Gaudet said.
The angler worked the Poc'it Fry along the edges and the interior of the laydowns and caught fish after fish.
"It was a good day on the water for me," he said. "I caught and released a limit of bass in the keeper range including a couple 3-pounders.
"I didn't win the tournament the next weekend, but I did place in the money."
As astute anglers are aware, Mister Twister's Poc'it Fry is an extremely versatile lure used in many applications. It can be rigged wacky style or fixed upon a drop shot rig. It can also be Texas-rigged and worked in and near structure, or even punched with heavy tungsten sinkers through grass mats.
"I am certain the bubbles coming from the Poc'it Fry also attract bass," he said. "And that blade helped me catch bass that were transitioning to the post-spawn.
"I will bite squarely 1/8 inch off the end of a Poc'it Fry and screw the Power Spinner on," Gaudet said. "When I use the Poc'it Fry this way, I'll rig it to a No. 4 EWG hook tied to 15-pound fluorocarbon.
"I have also successfully used this combination during the spawn," he said. "It adds a flash attraction when the stain of the water is such that you can't accurately locate spawning beds."
Gaudet uses various color combinations besides the watermelon-red Poc'it Fry and the red Colorado blade.
"I will often attach the No. 2 blue Colorado Power Spinner to the junebug Poc'it Fry," he said. "And sometimes I experiment with the other Power Spinners on Mister Twister's Poc'it Frys."
Bass quality is not an issue with the combination, and thus far Gaudet has taken bass upward to 4 pounds.
"Sometimes I will cut the end of the Poc'it Fry at an angle and then screw in the blade," the angler said. "When I do this, I notice it adds a wobble when retrieving the Poc'it Fry giving the bass a different presentation they will bite.
"Many anglers are afraid of losing the Power Spinners to bass, but I have not had this problem with Mister Twister Poc'it Frys. They're thick enough on the cutoff ends to hold the blade securely."
Dean Walton of Luling, Louisiana, another Mister Twister Pro-staffer, is quite the fan of Mister Twister's Comida, another very versatile plastic worked in a variety of ways including wacky style fishing, drop shot angling or the basic Texas-rig method.
In a recent tournament, Walton also placed in the money using the Comida with a Humdinger Power Spinner attached.
"I'll use this setup anytime because it offers a real subtle flash presentation when worked slowly," the 32-year-old angler said.
Walton will fish the combination weedless in shallow waters and pitch it in pockets near cypresses and within holes in patches of hydrilla.
"I'll lift it up and let it fall and repeat this process," he said. "When I need a little weight due to windy conditions, I'll use a 1/16-ounce bullet sinker above the lure.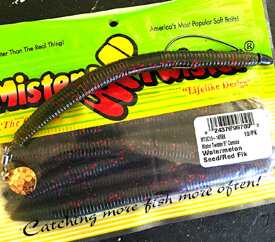 "I find this combination excels under bluebird skies," the angler said. "It works well for me when I find dead calm waters when bites are few and far between."
Walton's Comida/Power Spinner combo is set up very similarly to Gaudet's rig.
"I'll bite off about 1/8-inch of the end of the Comida so that it is flat and offers a good base to screw in the spinner," he said. "I'll place it on a 4/0 EWG hook tied to 12-pound fluorocarbon on a 7.5:1 ratio baitcasting reel.
"Many times bass will just haul off with the bait and run during its fall," Walton said.
"You want to present that Comida as light as possible, letting it nose down on the fall with the spinner facing up. I find that works extremely well for finicky bass."
Walton also mentioned that Mister Twister's Comida is very solid in keeping the Power Spinner attached to the base of the plastic when fishing.
"You don't lose many as people think," he said. "It's been my experience the bass get so aggressive with attacking the Comida they actually inhale the entire bait."
The angler has taken bass in the keeper range upward to 4 ½ pounds.
"The Comida is a killer bait in the marsh when tides are falling," he said. "I have taken many fish at one sitting with this combination in the 3 and 4 pounds range."
Look for the Poc'it Fry, the Comida and other quality Mister Twister lures at your favorite tackle dealer or online retailer.
You can also find more information about the Poc'it Fry, Comida and other quality Mister Twister lures at www.mistertwister.com.