by Adam Greengard
Mister Twister® Field Staff
Musky Tournament fisherman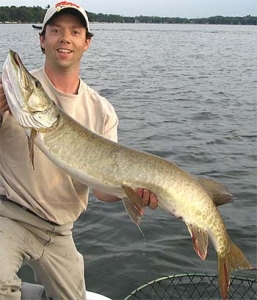 You already know that one weed bed that's a prime location for big bass, pike or muskies, but it's choked with weeds and a little bit of every other kind of cover.
It's frustrating because you just can't get a clean cast through the slop using spinner baits or other conventional topwater lures. This is the time to tie on a Mister Twister® Super Top Prop®.
This chunky 2 oz. surface lure is truly the king of the jungle when it comes to baits made for "slop" conditions. With your choice of a weedless weighted single hook with a 7" Sassy Split Tail, or a bucktail dressed tandem trailer, you are covered no matter what obstacles the water presents you with. Conveniently, a heavy duty split ring makes it easy to switch from the Sassy Split Tail rigging to the natural bucktail set-up.
Bubbling, gurgling, and churning, the Super Top Prop® is simply exciting to throw when you are after the biggest freshwater predator fish that haunts the surface. It really shines, however, in the spring and early summer. I always have the Super Top Prop® ready to go during the hottest part of the day when heat and high pressure conditions are pushing the muskies into the thick weeds . Trust me, just because they're in the slop does not mean they're not eating - some of my most exciting hits and catches have been on the Top Prop® dressed with a weedless 7/0 live action trailer.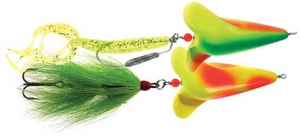 Muskrat, duck, wounded fish? Who knows what the biggest of predator fish think it is, this unique sound just drives them nuts! In fact, I can't wait to use them for stripers and even salt water applications.
Later in the day as the sun fades the muskies will start to abandon the really thick cover as they begin to haunt the weed edges. They patrol this transitional zone with one thing in mind - feeding. When fishing this territory use a Super Top Prop® with a dressed tandem trailer. It provides a larger profile and the tandem hooks will give you better hook-set percentages.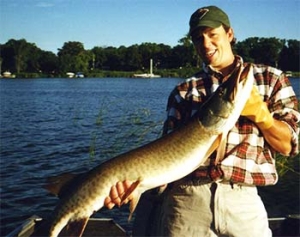 No weeds around? No worries, the Super Top Prop® is just as effective over flats, reefs, bulrushes and anywhere you are targeting fish in the one to ten foot zone
The Top Prop® comes in a superb variety of colors so there is a pattern for every location and water color. Personally, I really like the brighter colors on water systems that are stained and the naturals and dark patterns in clear water.