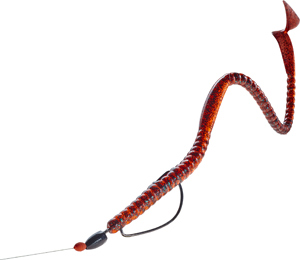 The Mister Twister Mag 12" BUZZ Worm is a big bass buffet developed by 2018 FLW Forrest Wood Cup Champion and 2014 FLW Tour rookie of the year Clent Davis and 2-time BASSMASTER Classic Qualifier, 2015 Bass Nation Champion, 2014 ABA National Champion, and 2012 BASSMASTER Weekend Series National Champion Albert Collins.
The Mag 12" BUZZ Worm's tail provides maximum action and vibration. It has a natural, free falling action imitating wounded baitfish that entices bass to strike.
The Mag 12" BUZZ Worm works great for targeting bass on structure such as ledges, reeds and brush piles in deeper water. It is exceptional for flipping, Carolina rigging and Texas rigging on either a 5/0, 6/0 or 7/0 hook.
Greg Yates –
Fish Caught: Bass, Largemouth
Simply put, the new BUZZ Worm is incredible! Big bass can't refuse the unique swimming action. Using my GoPro cameras, I've witnessed the underwater action firsthand and I can assure you, there's nothing in its league
Zach Hughes – Lake Fork, Texas
Fish Caught: Bass, Largemouth
A big, long worm with the action this style of tail puts out has been a game changer for me this summer. It's a bait that bass haven't seen before and they flat out eat it. For the heat of the summer months, the Mag 12 BUZZ Worm has been my go to bait for giant Lake Fork Texas Bass.
Share Your Testimonial
Write a product testimonial and share your fishing experiences with other customers.