by Chris Berzas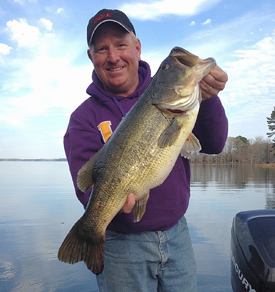 Spring is an exciting time of the year if you're a bass angler.
Waters warm up, and the big lady bass move to the shallows to engage in their annual spawning rituals.
One avid bass angler knows exactly which lure he will be pitching for these shallow lunker bass.
Tournament angler and Mister Twister Prostaffer Jason Pittman of Covington, Louisiana will be again using Mister Twister Poc'it Craws.
"For the last couple of years now, Mister Twister's Poc'it Craws have been phenomenal for me in catching bass," Pittman said. "I've worked with them now in lakes, reservoirs and river systems.
"I've easily taken over 300 bass in just two years with the Poc'it Craw."
It was last March when Pittman and his father were fishing together during the spawn on Toledo Bend when a very special lunker was taken.
"We came across a male bass that looked about 6 pounds on a bed in the Indian Mounds area," Pittman said. "A larger female was on the side, but we wanted to catch that big male."
Pittman pitched a Poc'it Craw onto the bed and bumped it on the bottom.
"The male bass moved, and I thought he would eat it but he kept on swimming by," the angler said.
"The female then came into the bed and suddenly inhaled it!"
As soon as Pittman set the hook, the huge bass was headed for deeper waters.
"I worked her back and dad netted her," Pittman said.
Pittman's Toledo Bend lunker weighed a quite impressive 9.3 pounds. After a very brief photo session, the huge bass was released near its bedding area.
And that is not the only large bass Pittman has taken on the Poc'it Craw.
"I've caught lots of 5- and 6-pounders on the Poc'it Craw - with a few 7s and 8s as well," he said.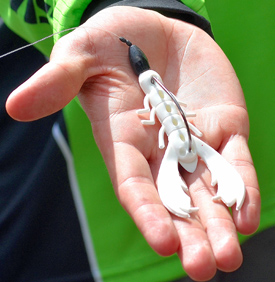 When Pittman is fishing shallow for bedding bass, the Poc'it Craw will be Texas-rigged on a 4/0 EW gap hook. He'll present it under a 3/8-ounce tungsten weight that will be pegged with one or two small sinker stoppers.
"And in clear shallow waters, I'll be flipping or pitching the Poc'it Craw on 17-pound fluorocarbon," he said.
Upon baiting his hooks, Pittman will first split the claws of the Poc'it Craw where they are joined.
"This will give it more action – especially since the claws are tapered where they meet the body."
"It's mostly an aggressive reaction bite from the bass on this lure. It may seem to them that a predator has entered the bed. Crawfish are filter feeders and the Poc'it Craw is well designed to send up air bubbles from its body."
Look for the Poc'it Craw and other quality Mister Twister lures at your favorite tackle dealer or online retailer.